Where
ROAM Galleria
3101 Cobb Pkwy
Suite 124 (2nd Floor)
Atlanta, GA 30339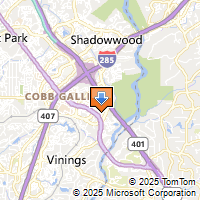 Driving Directions
Client Reviews
"I had no idea what to expect from a Constant Contact training, but when I left wanting to learn more. Lanelle's bright personality and relatable experiences made the training incredibly engaging and valuable! This was my first training with Constant Contact and as a frequent user of the program I now have a great sense of loyalty to the brand. As a communications professional it is critical to understand the ins and outs of any messaging tool you're using and because of Lanelle I am now maximizing Constant Contact."
Terrell Davis, Partnership Gwinnett

I took Lanelle's Email Marketing Bootcamp back in May when I started working for a new company. Lanelle was friendly, patient and professional. She was also very thorough and helpful with the questions that I had. I immediately started using her training when I returned to work the next day and was able to share things with my manager about Constant Contact that she didn't know. Since taking the course, I have implemented the use of Social Posts and it has been very helpful. We have also began incorporating video into a few of our emails and the response has been very good with increasing our likes and views on YouTube. I have also started adding the option for our members to share the newsletters to their social accounts. I would definitely recommend this class to anyone wanting to learn more about Email Marketing.
Arica Ratcliff, Georgia REALTORS ®
"Thanks to Lanelle Henderson, I now have a much greater knowledge of email marketing. I had been struggling with our email program for years. I met Lanelle, switched to Constant Contact, had training with her and now I am thrilled with the emails I can construct for my organization! Lanelle also educated me on the best time to send emails, how to create interest for the market I am reaching and how to add questionnaires to my emails as well as many other valuable tools. She was able to "get down to my level" with her teaching, which was valuable to me as I do not have an extensive computer background. I highly recommend Lanelle if you need help with email marketing!"
- G. Greer, Vinings Historic Preservation Society
The Ultimate Email Marketing Bootcamp
The Ultimate Email Marketing Bootcamp is designed to assist you with finally taking the email marketing leap that you've wanted to make. Even if you have never used email marketing before, we guarantee that by attending this workshop you will walk away with the newest and coolest version of Constant Contact and an understanding of the basics of creating mobile responsive emails that produce real results. Need to incorporate Social Media with your email marketing. You will learn how to use the right platforms and schedule posts to maximize your exposure. Also, learn the 30 Ways to Grow Your List!
The morning will start with an overview of your marketing strategy including:
Brand
Website
Email Strategy and
Social Presence
The afternoon will be hands-on to set up your account(s) and design your campaigns ready for distribution.
You will learn how to:
Create and brand your mobile campaigns
Customizing your sign up forms
Segment, import and manage contacts
Organizing your images and documents
Integrating

articles, surveys, social media and videos
Analyze reports, open rates and clicks
Email best practices on subject lines, creating content and more
30 ways to grow your email list
Setting up an autoresponder series
Select the appropriate social media platform and schedule posts
What you will need to bring:
PC or Mac laptop, power cord and mouse (if needed)
Constant Contact username and password (email

Lanelle@ohnellie.com if you need an account)
Your questions! This is a great session to ask everything you want to know
Register Now! Cost: $199 per person includes materials.
Seating is limited. Lunch is included.
Meet the Facilitators

Certified Constant Contact Experts
Ken Fehner
Ken has over 25 years experience with traditional marketing channels such as, newspaper, radio and TV/Cable advertising. Unlike many marketing companies who add social media to their list of services, The Social Gloo is a social media marketing/email marketing company first. The Social Gloo's main focus is social media management for businesses. Ken works with local businesses, start-ups, national, international companie, and associations supporting their social media needs. The scope of his work includes email marketing, social media including Facebook management and design, Twitter management and design, and LinkedIn management, YouTube video creation and more.
Lanelle Henderson
Lanelle is a tech savvy marketing expert, popular speaker, trainer and passionate entrepreneur with more than 20 years experience helping small businesses, nonprofits and associations apply the power of relationship marketing to grow their organization. She is a 14 year veteran with Constant Contact, former Regional Develpment Director and All-Star Winner. She has educated over 15,000 attendees on sharp business practices and online marketing programs, including email, event, and social media marketing. Her company provides 5 Star service with website design, SEO, email marketing, event managment and promotional products.