Who
Entrepreneurs, product and marketing managers, business development, sales professionals, CEOs


Cost

Members of TSE/Membre de TSE - no charge

Non-members: $25 + HST
Where
Le Teraz
154 Church St
Moncton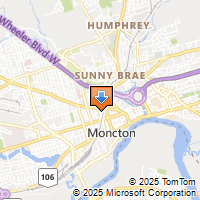 Driving Directions
"Titans of Technology" Sponsors
Contact
Barbara Ells
Tech South East
barb@techsoutheast.ca
506-857-4996
Tech Talk Seminar:
Best Practices for Building Revenues: Customers, Partners and Channels
(Le français suit)
Sales is a contact sport where one success begets another, and sales leadership can make or break a business. First customer engagements and understanding your value proposition is paramount for the growth of your company.
Translating the technical benefits of your product into financial benefits for different types of buyers will be discussed as will the importance of developing an understanding of sales cycles, with ideas to grow deal sizes, even in tough economic environments. Best practices for international expansion, with an emphasis on partnerships and channel development will also be presented.
Profile
Shaun M MacDonald is the CEO of 24 Global Equity based in Halifax. He has over 20 years of international experience including the execution of over $1 Billion in M&A and investment transactions in Canada, the US, France, Italy and Brazil with industry leaders such as Cisco Systems. In 2011 Shaun helped Bridgewater Systems execute a $211 million sale to Amdocs. Shaun has held executive sales management positions with early stage Canadian software firms Eicon Technology and Redknee Inc, both of which went public during his tenure and founded a Web 2.0 startup, Mashup Arts, that developes Facebook multimedia applications that integrate with YouTube. Shaun is a native of Cape Breton and lives with his family in Halifax where he has been helping both Nova Scotia and New Brunswick firms with their corporate development initiatives.
Please be advised that registration lists may be shared with sponsor companies as part of their sponsorship agreement.
Séminaire Tech Talk:
Meilleures pratiques pour générer des revenus : Clients, Partenaires et Canaux

La vente est un sport de contact dans lequel un succès en engendre un autre, et où le leadership des ventes peut faire ou défaire une entreprise. Les premiers engagements de votre clientèle et la compréhension de votre proposition de valeur sont primordiaux à la croissance de votre compagnie.
Nous discuterons de l'importance de traduire les avantages techniques de votre produit en avantages financiers pour différents types d'acheteurs de même que de l'importance de développer une compréhension des cycles de ventes, avec des idées sur la façon d'augmenter la taille des accords, même dans des environnements économiques difficiles. Les meilleures pratiques pour une expansion internationale, avec l'accent sur les partenariats et développement de canaux seront également présentées.
Biographie
Shaun M MacDonald est le PGD de 24 Global Equity basées à Halifax. Il possède plus de 20 années d'expérience internationale y compris l'exécution de plus d'1 milliard $ en M&A et transactions d'investissement au Canada, É-U, France, Italie et au Brésil avec des leaders d'industrie tels que Cisco Systems. En 2011, Shaun a aidé Bridgewater Systems a exécuter une vente de 211 millions $ à Amdocs. Shaun a tenu des postes de gestion des ventes avec les firmes de logiciel canadiennes en premier développement Eicon Technology et Redknee Inc, toutes deux ayant fait une sortie publique durant leur mandat, et a fondé une entreprise en démarrage Web 2.0, Mashup Arts, laquelle développe des applications multimédia Facebook qui s'intègrent à YouTube. Shaun est natif du Cap Breton et vit à Halifax avec sa famille où il aide les firmes de la Nouvelle-Écosse et du Nouveau-Brunswick avec leurs initiatives en développement corporatif.
Soyez avisés que les listes d'inscriptions peuvent être partagées avec les entreprises mécènes dans le cadre de leur accord de parrainage.