Where
Trinity River Vision Authority
307 W. Seventh St.
Suite 100
Fort Worth, TX 76102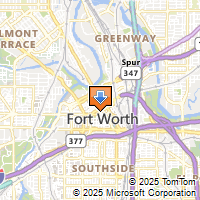 Driving Directions
AEG Texas Chapter
cc@aegtx.org
Ice Breaker
Friday night, January 19 - Mixer (Catered)
6:30 PM-9:00 PM
Fairfield Inn and Suites Downtown
1010 Houston St, Fort Worth, TX 76102
(817) 529-9200
Dinner will be provided for those who register for the mixer. Please bring your preferred beverages.

AEG FOUNDATION
Advancing the geosciences through scholarships, research, and professional development grants in environmental and engineering geology.
AEG TX Members,
There are four easy ways that you can support the AEG Foundation right now!
Register as a participant or sponsor for the AEG Foundation Golf Tournament. The tournament takes place on Monday, September 11, 2017 at the AEG National Meeting in Colorado Springs. More information is available HERE. The deadline is August 31, 2017.
Have Amazon donate a small percentage every time you make a purchase. Go to smile.amazon.com for more information. Select AEG Foundation as your charity.
Go to the AEG Foundation homepage and make a donation to the fund of your choice.
Donate to the Mathewson fund when you register for an AEG Texas event.
Contact Bill if you have any questions about The AEG Foundation or the upcoming golf tournament.
Bill Flanigan
Director, AEG Foundation
bdflanigan@sbcglobal.net