YRA of SF Bay Presents: Racer Social #3- Sail Trim
You are cordially invited to our 3rd YRA Racer Social to be held on November 14 at the Corinthian Yacht Club. Our 3rd social will focus on sail trim and rig setup and will include presentations by Kame Richards of Pineapple Sails, Seadon Wijsen of North Sails, and Will Paxton of Quantum Sails.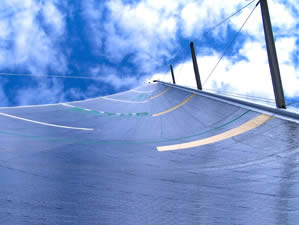 We all, skippers and crew, continually work on trying to make our boats as fast as possible. Here's your chance to hear a set of renowned sail-makers talk about how to get the most out of your sails and make your boat faster. Sail trim is an enormous topic and so this first time around we'll concentrate on main and jib trim, and also look at how rig tune effects sails and therefore boat speed.
We hope these new Racer Socials will add new vigor to the racing community by providing a series of events where racers and their crew can gather to hear interesting presentations about racing. We want to provide an opportunity for racers to rub shoulders with each other and talk about their passion for racing and sailing. Skippers, please invite your crew, family members, friends, or anyone who helps in your racing endeavors. They are all important members of the racing community, and we value their participation in the Racer Socials.
The panel discussion starts at 7:00pm. This event is FREE, but we do ask that you register for the social if you plan to attend, and let us know if you plan on enjoying the buffer dinner, so we can give the Yacht Club an approximate head count.
We look forward to seeing you onNovember 14th!
Don Ahrens
HDA/OCDA President