When
8:30 to 11:30 AM (sign-in 8:30-9:00 AM) Wednesday, March 6, 2019
Where
FFA Enrichment Center
1055 S.W. Prairie Trail Parkway
DMACC Campus
Ankeny, IA 50023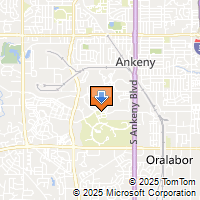 Driving Directions
The FFA Enrichment Center is an incredible learning environment, fully accessible and with plenty of parking right at the door. (And, there's lots of options in the adjoining Prairie Trails District for good food and/or a little shopping after the seminar!)

Jo Kline,
Iowa Institute for Health Literacy
jokline@msn.com
Health Literacy:

The Secret to Being a Power Patient!
Join attorney and author Jo Kline for this first-of-its-kind seminar on being a Power Patient! Health Literacy is having the tools needed to make informed choices as patients and caregivers. And the fundamentals of health literacy apply in any health care situation, from scheduling an annual checkup to tracking medications, from managing an acute or chronic condition to hiring a home health aide, and from choosing a pediatrician to accepting the need for hospice care.
We'll cover the history of medical decision making in America and the modern challenges to managing care and interacting with providers. Then Jo Kline will share the real nuts-and-bolts of being a Power Patient: the Three Building Blocks of Health Literacy and the Top Ten Fundamentals of Health Literacy. Bring your questions--we'll have Q&A!
No note-taking required--you'll get handouts with all the seminar key messages and a lot more, as well as a copy of Jo's book, THE 60-MINUTE GUIDE TO HEALTH LITERACY.
Our Presenter
Attorney and award-winning author Jo Kline has been writing and speaking about medical decision making and the meaning of legacy for over 13 years, since serving as volunteer chair of Iowa's largest hospice. A frequent contributor to print and online media, she authored the Des Moines Register's 12-week series, "Health Literacy 101," and she has been featured in the New York Times, Reader's Digest, Philadelphia Inquirer, Lifezette.com and the Huffington Post. Jo's books on health care include THE 60-MINUTE GUIDE TO HEALTH LITERACY and The Practical Guide to Health Care Advance Directives.
To learn more about Jo and her writing, visit www.HealthLiteracy101.com.
Been meaning to read about Health Literacy?
Good news! Every seminar attendee will receive a signed copy of THE 60-MINUTE GUIDE TO HEALTH LITERACY (a $14.99 value), as a "Thank you!" for making health literacy a priority and for joining us at this groundbreaking seminar!