Tactical First Aid and "System Collapse" Medicine - Feb 26 ***SOLD OUT***
This hands-on class will develop proficiency in basic battlefield medical skills utilizing the latest military Tactical Combat Casualty Care protocols.
Students will learn to stop traumatic bleeding from gunshot, knife wounds and blast injuries using the latest pressure bandages, tourniquets, and hemostatic agents. The improvisation of functional substitutes for this equipment will be practiced extensively to give students the ability to respond to emergencies quickly, even if no dedicated first aid kits or bandaging material are available. Self-care, buddy-care, and care under fire will also be addressed.
Students will also learn simple patient assessment techniques, as well as how to treat both a sucking chest wound and tension pneumothorax. Options for opening a patient's airway are discussed and practiced. Students will learn how to use a nasopharyngeal airway (NPA). In addition, students will learn how to treat themselves and family members in the event of a longer-term breakdown in our current medical system. Wound cleaning, disinfection, and wound closure (including minor suturing and stapling) methods in austere conditions will be practiced in our "trauma lab". If time permits, students will integrate all of these skills in several practical scenarios.
The instructor will provide students with information about what types of drugs to stockpile for natural disasters, international travel, or a health care system collapse, along with methods for legally acquiring those pharmaceuticals. Students will leave the class knowing what items should be included in a comprehensive medical kit and how to improvise those items in an austere environment.
All materials for the class will be provided by the instructor.
Class will run 9 am until 5 pm with a 30 minute lunch break.
COST: $125 per person. A maximum of 25 spots are available.
A portion of your entry fee benefits Buckeye Firearms Association.
Register Now!
CANCELLATIONS & REFUNDS:
For most of our events, you may cancel and receive a refund (less a $10 processing fee) up to 3 weeks before an event. No refunds within 3 weeks of an event.
About Greg Ellifritz:
Click here to visit Greg's website.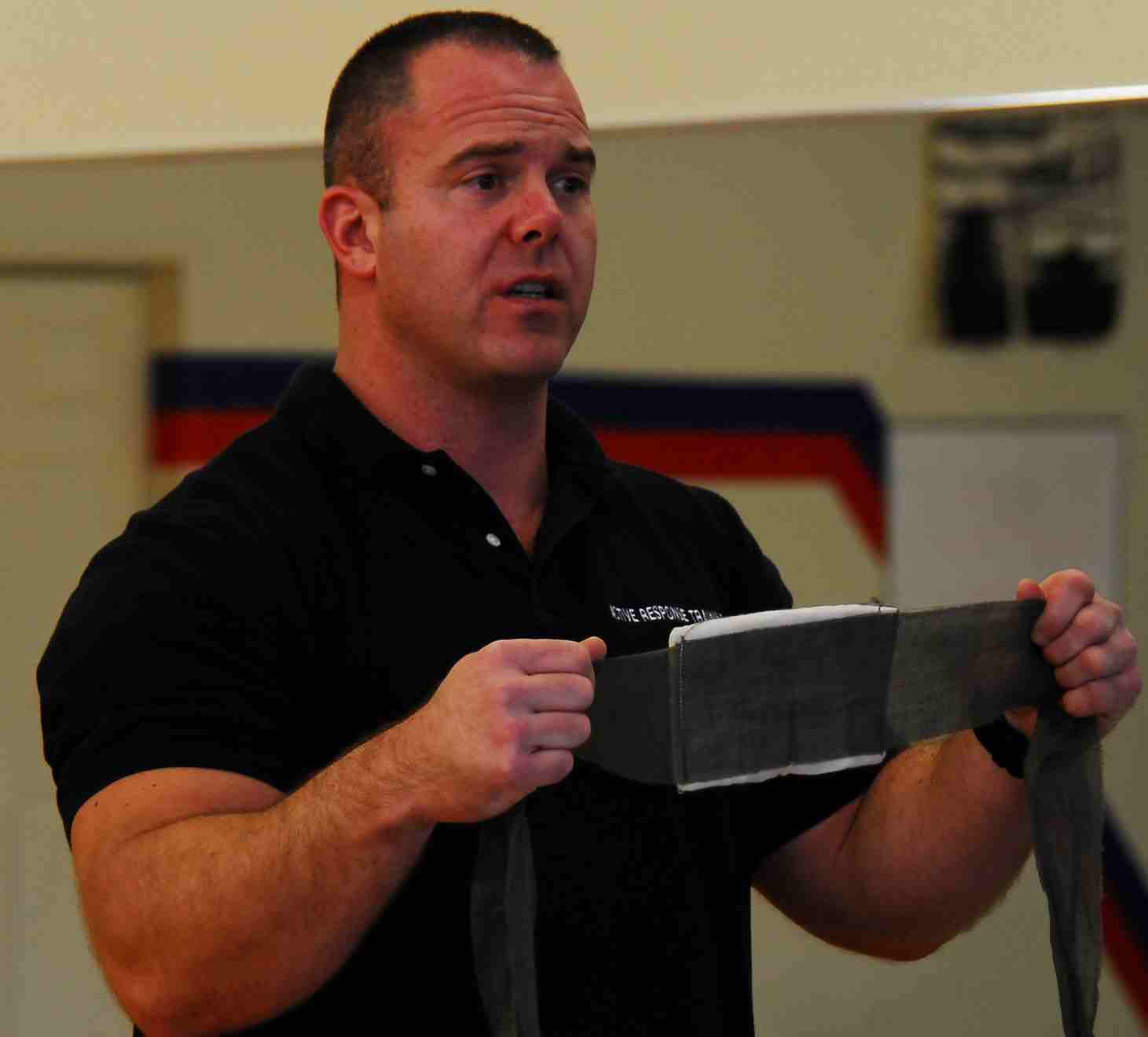 Greg is a veteran police officer, spending 13 years as the full time tactical training officer for his central Ohio agency. In that position, he was responsible for developing and instructing all of the in-service training for a 54-officer police department. Prior to his training position, he served as patrol officer, bike patrol officer, bike patrol coordinator, and field training officer for his agency. He currently serves as a patrol officer, firearms instructor, and precision marksman.
He has been an active instructor for the Tactical Defense Institute since 2001 and a lead instructor for TDI's ground fighting, knife fighting, active shooter, impact weapons, and extreme close quarters shooting classes.
Greg holds instructor, master instructor, or armorer certifications in more than 75 different weapons systems, defensive tactics programs, and law enforcement specialty areas. In addition to these instructor certifications, Greg has trained with many of the leading firearms and edged weapons instructors in the country.
Greg has been an adjunct instructor for the Ohio Peace Officer's Training Academy, teaching firearms, defensive tactics, bike patrol, knife defense and physical fitness topics. He has taught firearms and self defense classes at the national and international level through the International Association of Law Enforcement Firearms Instructors, The American Society of Law Enforcement Trainers and Ohio Association of Chiefs of Police.
He has a Master's degree in Public Policy and Management and has written for several publications and websites including: 'The Firearms Instructor", "Ohio Police Chief", "Combat Handguns", Survivalblog.com, "Concealed Carry Magazine", Primedia's "Personal & Home Defense Annual", and "American Handgunner."