Extreme Close Quarters Gunfighting - Oct 20
The skills you learned on the target shooting range or in your CCW class may not work for you when the fight happens within arms' reach. Extreme close range gun fighting is a completely different skill set, one that relies far more on FIGHTING than on mere shooting.
With approximately 50% of gunfights occurring at ranges closer than five feet, you need this skill set!
Join Greg Ellifritz as he teaches a dynamic close quarters gun fighting class that will cover the following topics:
Retention Shooting Positions

Body positioning and shooting stances for the close quarters fight

In-fight weapons access and drawing skills

Stopping and opponent's draw

Making contact shots without creating malfunctions

Close quarters gun disarms

One handed close quarters malfunction drills

Using the pistol as an impact weapon

Drawing and shooting from unconventional positions

Weapons access and gun fighting from the ground

Rescuing a partner or family member who is in an opponent's clinch

Weapons retention, both in holster and in hand

and numerous other techniques!
Required Equipment:
Handgun, quality holster and belt, spare magazines and holder

Eye and Ear protection

Thin gloves that will still allow you to shoot your pistol

150 Rounds of ammunition
************************************************************************************************************************
NOTE: This is NOT a class for beginners! Proper gun handling skills and evidence of prior training is a prerequisite for the course. Prior training in a combative martial art or police defensive tactics class will be useful, but not required. The class will be somewhat physically demanding, so please show up expecting to work hard.
After you register, we ask that you provide a copy of your Concealed Handgun License and proof of advanced pistol training in one of our classes or a certificate from another training organization. If you do not meet the requirements, you will be notified and issued a refund prior to the event.
************************************************************************************************************************
COST: $175 per person. A maximum of 20 spots are available.
A portion of your entry fee benefits Buckeye Firearms Association.
Register Now!
Preview the Liability Release you will be asked to sign when you check in at the event.
CANCELLATIONS & REFUNDS: For most of our events, you may cancel and receive a refund (less a $10 processing fee) up to 3 weeks before an event. No refunds within 3 weeks of an event.
About Greg Ellifritz:
Click here to visit Greg's website.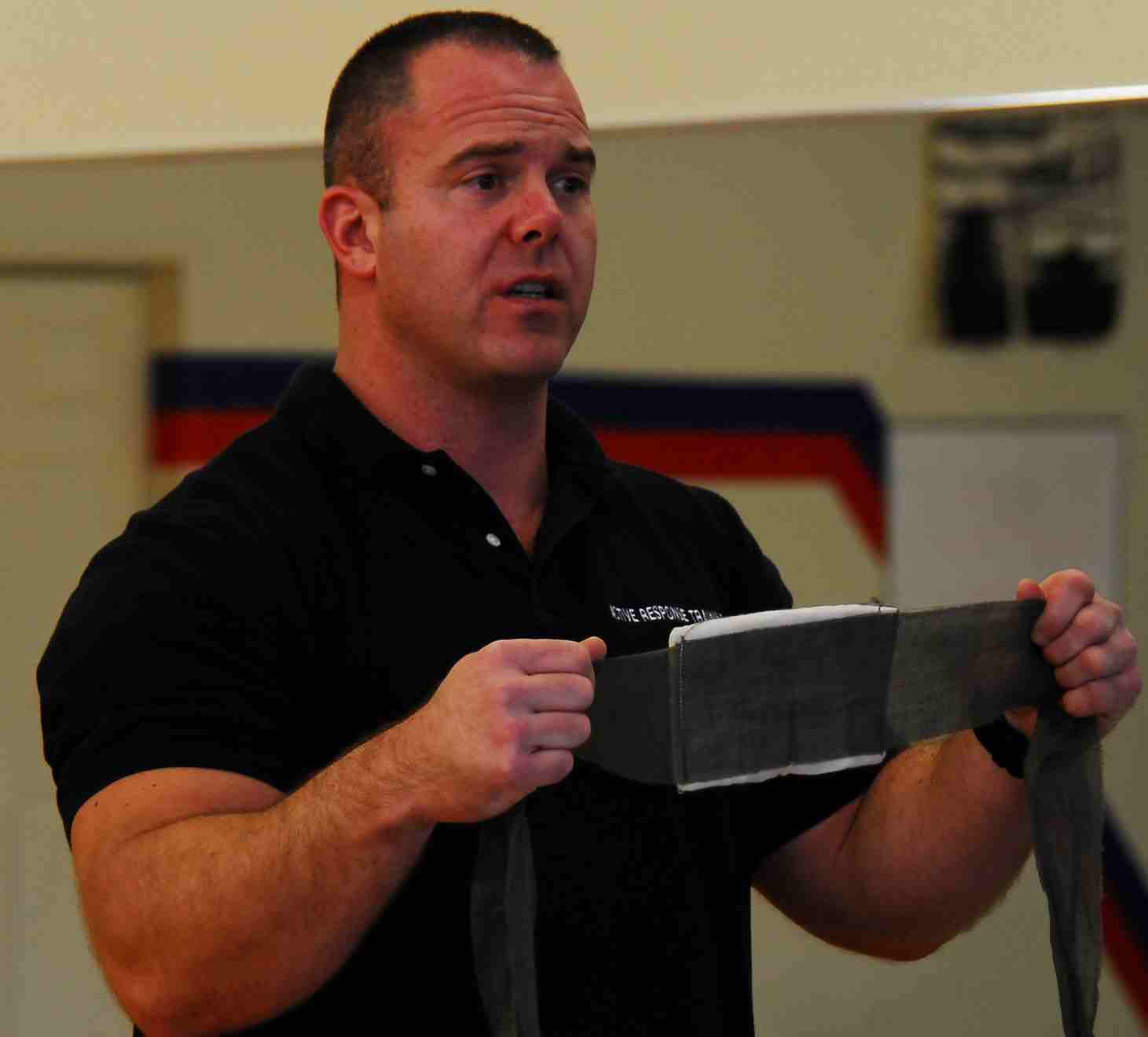 Greg is a veteran police officer, spending 13 years as the full time tactical training officer for his central Ohio agency. In that position, he was responsible for developing and instructing all of the in-service training for a 54-officer police department. Prior to his training position, he served as patrol officer, bike patrol officer, bike patrol coordinator, and field training officer for his agency. He currently serves as a patrol officer, firearms instructor, and precision marksman.
He has been an active instructor for the Tactical Defense Institute since 2001 and a lead instructor for TDI's ground fighting, knife fighting, active shooter, impact weapons, and extreme close quarters shooting classes.
Greg holds instructor, master instructor, or armorer certifications in more than 75 different weapons systems, defensive tactics programs, and law enforcement specialty areas. In addition to these instructor certifications, Greg has trained with many of the leading firearms and edged weapons instructors in the country.
Greg has been an adjunct instructor for the Ohio Peace Officer's Training Academy, teaching firearms, defensive tactics, bike patrol, knife defense and physical fitness topics. He has taught firearms and self defense classes at the national and international level through the International Association of Law Enforcement Firearms Instructors, The American Society of Law Enforcement Trainers and Ohio Association of Chiefs of Police.
He has a Master's degree in Public Policy and Management and has written for several publications and websites including: 'The Firearms Instructor", "Ohio Police Chief", "Combat Handguns", Survivalblog.com, "Concealed Carry Magazine", Primedia's "Personal & Home Defense Annual", and "American Handgunner."