Dred Scott and Traces of the Trade
Fundraising Dinner Soiree and Dance
The Dred Scott Heritage Foundation and the
Friends of Dred Scott Committee
are pleased to continue the commemorative, educational and reconciliation work of the foundation. As we form new partnerships, we begin the first of our
Sons and Daughters of Reconciliation Series.
We are grateful to have as our keynote speaker Mr. Harold Fields. He is a retired civil engineer and has been the facilitator for a monthly citywide racial dialogue in Denver for the past 12 years. He is a board member for the national initiative Coming to the Table. It brings together descendants of former slaves and slave owners for dialogue, reconciliation, and healing. Since 2001 he has been an active participant on a documentary about the triangle slave trade of the nation's most prominent slave trading family, Traces of the Trade: A Story from the Deep North. He has been the national training director for the film, and he serves on the board of The Tracing Center on Histories and Legacies of Slavery, Inc.
Ms. Holly Fulton, one of the descendants of Mr. James John DeWolf, once the largest slave trader in the United States will appear. This evening will center on how the DeWolf descendants responded to the revelation of their ancestry, including the documentary that was produced by descendant Katrina Brown, that traces the history of the slave trade and their family's role in it. Becoming exponents for social justice, especially as it relates to race relations, has become the family response. The proposed heritage of Dred and Harriet Scott are explored through the research done through this documentary.
Pre-reception entertainment will be provided by the Normandy High School Jazz band under the direction of Thomas Moore. 3 CENTRAL will providing the entertainment for the dance.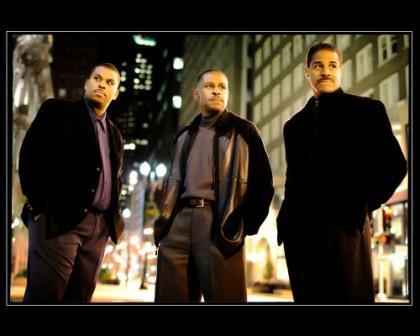 3 Central is Russ Moore-Saxophone, Everett Moore-Drums/Guitar, and Ken Anderson-Keyboards. All three members were born and raised in St. Louis, MO where they still reside. The band was formed in May of 2002 for the purpose of touching hearts and lifting burdens through music. The name 3 Central represents 3 in One, and the coming together for a common purpose. It also aptly describes the origin of three musicians from the Midwest (Central Time Zone). Each member of the band has been playing music since childhood, having freelanced with musicians from all walks of life. When they came together as Solace in 2002, (later changed the name to 3 Central) they were voted best new Contemporary Jazz Artists in St. Louis. Since then they have played countless engagements throughout the United States including church conferences, corporate events, weddings, jazz venues and many more. They have also been featured twice on the main stage of the Missouri Black Expo. You can find them at www.threecentral.com