*CLICK to watch the video above! The above video is about the 2010 Leadercast broadcast from Cincinnati. Watch to gain further insight as to the experience you will have when attending the 2011 Chick-fil-A Leadercast broadcast LIVE from Livonia, Michigan.
About the Chick-fil-A Leadercast
The Chick-fil-A Leadercast is a leadership conference which was started in 2000 by John C. Maxwell. He had a vision to create a conference of qualified leaders that was affordable and open to a large audience. He wanted it to represent the growth and importance of leadership in any organization. Today, through shared ideas and information leadercast brings light to the necessary qualities and actions needed to become a respected and successful leader.
The 2011 Chick-fil-A Leadercast is a one-day event which is expected to have 70,000+ leaders from 13 countries around the world in participation. The event will take place in Atlanta, Georgia and will also be videocasted live from host-sites around the globe. Future voices of change will be gathering together to discuss and show the effects the power of change through effective leadership can have. Displaying leadership throughout the world will truly depict what all leaders have in common: a voice, and a voice that strives for positive change.
Talan's Involvement
Talan SBS is excited to announce and invites you to join us while we're the regional host for the 2011 Chick-fil-A Leadercast which will serve as our BIZMix for May. This sensational opportunity Platinum Sponsored by First Place Bank and DBusiness will be taking place on May 6, 2011, at the VistaTech center which is located at Schoolcraft College in Livonia.
Speakers
Highlighted in the event are many well-known and influential leaders that will be speaking throughout the day, including:
Seth Godin: Entrepreneur, Marketing Expert, & Best-Selling Author of 12 books including "Linchpin"
John C. Maxwell: Leadership Expert & Best-Selling Author of The 21 Irrefutable Laws of Leadership
Mack Brown: Head Coach of the Texas Longhorns, 2009 Big 12 Coach of the Year
Suzy Welch: Best-selling author, television commentator, and noted business journalist
Erin Gruwell: Founder & President of Freedom Writers Foundation
Muhtar Kent: Chairman of the Board and Chief Executive Officer of The Coca-Cola Company
Dan Cathy: President & COO of Chick-fil-A, Inc.
Dave Ramsey: Personal money-management expert, national radio personality, and best-selling author
Frans Johansson: Best-selling author of Medici Effect
Sir Ken Robinson: Best-selling Author & Leader in the Development of Creativity, Innovation & Human Resources
Alison Levine: Team captain, 1st American Women's Everest Expedition and adjunct professor at the United States Military Academy
You won't want to miss this years greatest opportunity to improve your leadership skills. Learn the keys to success that led this extraordinary line-up of diverse and effective speakers to where they are today. You'll finally feel prepared to guide your business toward its goals and pontential!
At the 2011 Chick-fil-A Leadercast Attendants will learn:
How to lead based on respect and leadership, not position and power

The difference between dynamic leadership and mediocre management

How to put ideas into action

Ways to provide exceptional customer service

What their passion is, and unlocking that creativity into the workplace

Ways to stimulate innovation into the organization
Success Facts
60,000 participants globally.
2,000 attendees in Atlanta.
13 countries around the world.
91% of attendees rated their likeliness of recommending Chick-fil-A Leadercast 7 or above (1=very unlikely, 10= very likely).
#2 trending topic on Twitter on May, with nearly 5,000 tweets using the hashtag #cfaleadercast.
6+ million e-mail and banner ad impressions.
4,500 requests for information.
4,604 Chick-fil-A Leadercast Twitter followers.
Testimonials
"The feeback from attendees was GREAT! They were absolutely amazed that we were having this great event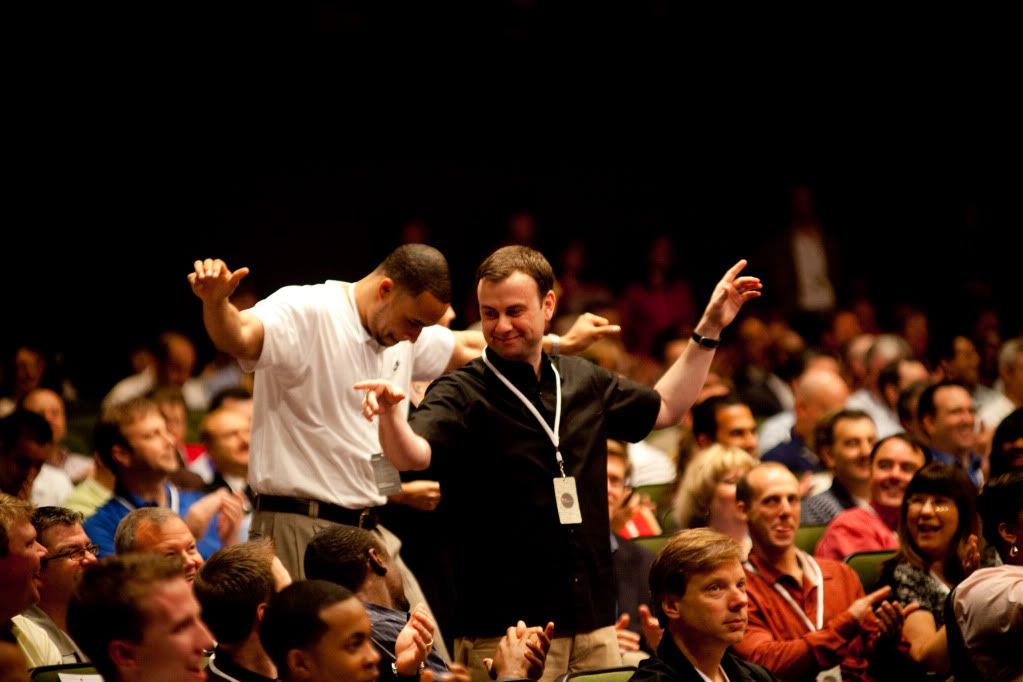 in our back yards. Our clients/prospects and other attendees were totally impressed with the quality of the event and the superb speaker line-up. We believe that this is ONE event that we can really use to set ourselves up as strong supporters of education in the realm of LEADERSHIP and further ourselves from our competition. -Jerry Phelps, Express Employment Professionals, Valparaiso, IN
"The speaker presentations were wonderful and applicable to my job and personal life. It felt as if I was sitting in Atlanta with all of you! There were ways to participate from where we are. It was not boring; it left me wanting more!" -Ronnie Duckworth, RN, BSN, Warren Memorial Hopital, Front Royal, VA
"When attending events like this, you intend to be able to grow from it. But this one lit a fire deep inside me. It seemed as though speaker after speaker had something specific to talk to me about, and all of a sudden the pathway has lights on it for me." -Angie Reed, Kansas State Federal Credit Union, Topeka, KS
Registration
Registration will be $149.00
If you're interested in purchasing multiple tickets, contact us directly for special rates! 248-919-1950