Contact
Estela Guevara
Catechetical Office Archdiocese of NY
estela.guevara@archny.org
646-794-2692
Travel Information
The New York Catholic Center /Cathedral High School Entrance is located at 350 East 56th Street, New York City, between First and Second Avenues.
New York Catholic Center
350 East 56th Street
Between First and Second Avenues
New York, NY 10022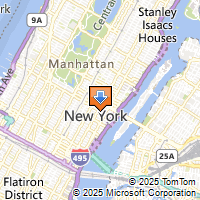 Driving Directions
Schedule / Horario
8:30am: Arrival, Registration, Hospitality, Exhibits
Open / Llegada, inscripción, hospitalidad, apertura de las exhibiciones

9:30am: Bilingual Opening Mass /
Misa de Apertura B
ilingüe
St. John the Evangelist Church
348 East 55th Street
Principal Celebrant & Homilist /
Celebrante Principal & Homilista
His Excellency, Archbishop Carlo Maria Vigano
Apostolic Nuncio to the United States
Presider of Opening Liturgy /
Presidente de la Liturgia de Apertura
His Eminence, Timothy Michael Cardinal Dolan
Archbishop of New York

11:30am: English Keynote Address (School Gym)
Peter Cardinal Turkson
President, Pontifical Council for Justice and Peace
11:30am: Discurso de Apertura en Español (Mini-The
ater)
Archbishop Carlos Aguiar Retes
Arzobispo de Tlalnepantla, México
Presidente de la Conferencia de Obispos Católica de América Latina - CELAM
1:30pm-2:30pm: Workshops I / Talleres I
3:00pm-4:00pm: Workshops II / Talleres II
4:15pm: Bilingual Closing / Oracion de Clausura Blilingue (School Gym)
5:00pm: Departure / Partida
Register Now!
Registration by Mail:
If you wish to register by filling out a paper registration form, please download and print out this registration form. Simply fill it out, enclose a check and mail. The form and check must be received by June 8th.
Enrich Your Faith
The Catechetical Office of the Archdiocese of New York offers workshops, classes and events that may interest you.
Sponsored by / Auspiciado por
American Bible Society
Archdiocesan Catechetical Office