August 14 VALUE Series - Carbon Fiber for Dummies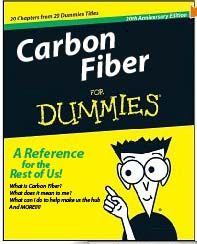 Our VALUE Series Lunch for August will be held on Tuesday, August 14 from 11:30 a.m. - 1:00 p.m. in the Joyce Conference Room at the Oak Ridge Chamber of Commerce.
Have you heard of Carbon Fiber? In a nutshell, it's an extremely lightweight, extremely strong substance which is already being used by the aircraft & aerospace, wind energy and automotive industries - just to name a few. The carbon fiber industry demand is expected to reach $13.2 billion this year and $18.6 billion by 2015.
Why should you care? Well, not only will you be using carbon fiber products (if you're not already) in things like your vehicle, golf clubs, tripods, etc., but industrial recruiters are working diligently to make Oak Ridge the center of the carbon fiber universe. This industry has the potential to make its hub the next Silicon Valley.
Jesse Smith, Knoxville-Oak Ridge Innovation Valley Director of Technology, will be here to explain the ins and outs of Carbon Fiber and its potential. Come find out what Carbon Fiber is, what is being done to recruit the industry to Oak Ridge and what all of us can do to help make that a reality.