Contact:
Sue Melton
ASU Continuing Education and Community Outreach
kmelton@astate.edu
870-972-3052
When
Thursday April 4, 2013 at 5:30 PM CDT
-to-
Thursday April 18, 2013 at 8:30 PM CDT
This class meets on Thursday nights only for 3 weeks.
Where
ASU Continuing Education and Community Outreach
106 N. Caraway Road
Jonesboro, AR 72401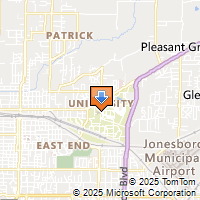 Driving Directions
Parking
Approaching Arkansas State University from Stadium, turn right or left onto Johnson Avenue, turn left at the second light onto Caraway Road. Turn right into the parking garage, where visitor parking is available. Visitor parking marked with a "V".
Parking Garage Map
Instructor
Cindy Bode
Cindy Bode provides the computer support for the College of Education at Arkansas State University. Originally from the Kansas City area, she received a BA in Economics from Kansas State University in 1983. She is a Microsoft Certified Master Instructor and was an instructor at the New Horizons Computer Learning Center in Overland Park and adjunct faculty at Longview Community College in Lee's Summit, Missouri. She enjoys reading, helping her husband (and their four-year-old) work on their racecar and trying to not kill her plants.
Intermediate Microsoft Excel
Students will learn how to use multiple worksheets and workbooks efficiently, and they will start working with more advanced formatting options including styles, themes, and backgrounds. They will also learn how to create outlines and subtotals, how to create and apply cell names, and how to work with tables. Students will save workbooks as Web pages, insert and edit hyperlinks, and learn to share workbooks by email. This course also covers advanced charting techniques, use of trendlines and sparklines, worksheet auditing and protection, file sharing and merging, and workbook templates. Finally, students will learn to work with PivotTables and PivotCharts. Course manual comes with CertBlaster exam prep software (download).

This course will help students prepare for the Microsoft Office Specialist core-level exam for Excel 2010 (exam 77-882) and the Microsoft Office Specialist Expert exam for Excel 2010 (exam 77-888). For comprehensive certification training, students should complete the Basic, Intermediate, and Advanced courses for Excel 2010.

Table Of Contents:
Unit 1: Using multiple worksheets and workbooks
Topic A: Using multiple workbooks
Topic B: Linking worksheets with 3-D formulas
Topic C: Linking workbooks
Topic D: Managing workbooks

Unit 2: Advanced formatting
Topic A: Using special number formats
Topic B: Using functions to format text
Topic C: Working with styles
Topic D: Working with themes
Topic E: Other advanced formatting

Unit 3: Outlining and subtotals
Topic A: Outlining and consolidating data
Topic B: Creating subtotals

Unit 4: Cell and range names
Topic A: Creating and using names
Topic B: Managing names

Unit 5: Tables
Topic A: Sorting and filtering data
Topic B: Advanced filtering
Topic C: Working with tables

Unit 6: Web and sharing features
Topic A: Saving workbooks as Web pages
Topic B: Using hyperlinks
Topic C: Sharing workbooks

Unit 7: Advanced charting
Topic A: Chart formatting options
Topic B: Combination charts
Topic C: Graphical elements

Unit 8: Documenting and auditing
Topic A: Auditing features
Topic B: Comments in cells and workbooks
Topic C: Protection
Topic D: Workgroup collaboration

Unit 9: Templates and settings
Topic A: Changing application settings
Topic B: Using built-in templates
Topic C: Creating and managing templates

Unit 10: PivotTables and PivotCharts
Topic A: Working with PivotTables
Topic B: Rearranging PivotTables
Topic C: Formatting PivotTables
Topic D: Using PivotCharts

ASU Continuing Education Computer Classes
You must be registered by Wednesday before the week classes start.
Check out our schedule for Evening Computer Classes now offered at ASU Jonesboro and ASU Paragould.
Need a class not listed or one offered at a different time?
If you are interested in a class that is not listed, please let us know. Our schedule changes so please call to inquire if one has been recently added to the schedule or will be offered later in the year. We look forward to hearing from you.
Phone: (870) 972-3052
Contact:

Jessica Scott Sue Melton
jkscott@astate.edu kmelton@astate.edu
Cost: $109 per class.
Payment Options:
Mail:
ASU Treasurer's Office
P.O. Box 2640
State University, AR 72467
Phone:
Credit/Debit Card
(870) 972-3847 (Monday - Friday 8:00 a.m. - 5:00 p.m.)
In Person:
ASU Treasurer's Office Cashier's Window
Student Union Building, 2nd Floor
North Hall adjoining the Parking Deck, ASU Jonesboro
(Monday - Friday 8:00 a.m. - 4:30 p.m
***Checks should be made out to: ASU CECO/Computer Classes. The name of the class, student's name, and Account # 133101-212910-511416-0000 should be included on checks.
Note: If registering for multiple classes, a registration form is required for each class.
Classes may be added upon request, providing there are enough participants to make a class.
Computer Lab Locations
(Jonesboro Day/Night Classes)
Arkansas State University
Continuing Education and Community Outreach
Eugene W. Smith Hall, Suite 410
106 N. Caraway Road
Jonesboro, AR 72401
or
Arkansas State University
College of Education, Room 209
Education Building
Jonesboro, AR 72401
Phone: (870) 972-3052
Fax: (870) 972-3849