Contact
New York Regional Association for Conservation
NYRAC
info@nyrac.org
When
Wednesday November 28, 2012 from 6:00 PM to 8:00 PM EDT
Add to Calendar
Where
Institute of Fine Arts, Duke House, First Floor
1 East 78 Street
New York, NY 10075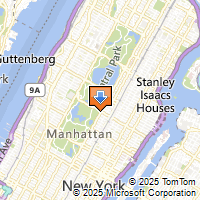 Driving Directions
About the Speaker:
Born in Nashville, Tennessee, Julie Martin graduated from Radcliffe College and received a Masters degree in Russian Studies from Columbia University. In 1966 she worked as production assistant for Robert Whitman on his theater performances, continuing to work with him and other artists for the series 9 Evenings: Theatre & Engineering in 1966. She joined the staff of Experiments in Art and Technology in 1967, and over the years worked closely with Billy Klüver on projects and activities of the organization.

More recently she has worked as coordinating producer for performances by Robert Whitman including the video cell phone performance Local Report (2005), Passport (2010); two simultaneous theater performances which shared images transmitted over the Internet; and Local Report 2012, an international video cell phone performance and installation.

Currently she is executive producer of a E.A.T. series of films being released on DVD that document each of the ten artists' performances at 9 Evenings, and is editing a book on the art and technology writings of Billy Klüver.

This year she is working with Jason Andrew of Norte Maar to produce a year-long series of lectures and dance, theater, and music performances celebrating the centennial of John Cage's birth.
Julie Martin's lecture is re-scheduled! If you are already registered, but can't attend at Nov. 28 please contact us at info@nyrac.org to process your refund.

The Story of E.A.T.
1960 to 2012

to be held at the
Institute of Fine Arts, New York University
Duke House Lecture Hall

6:00 PM, November 28, 2012
Doors open at 5:30 PM

Reception to follow in the Loeb Room
Martin will present a history of Experiments in Art and Technology, a foundation started in 1966 with the aim of providing artists with access to the new technology through collaboration between artists and engineers and scientists.
She will discuss the activities of Billy Klüver in the early 1960s, beginning with his collaboration with Jean Tinguely on Homage to New York, the machine that destroyed itself in the garden of the Museum of Modern Art, continuing through Klüver's collaborations with individual artists in the 1960s to the founding of E.A.T. in 1966 by Klüver, fellow engineer Fred Waldhauer, and artists Robert Rauschenberg and Robert Whitman.
Her talk will address some of the major projects of E.A.T. including 9 Evenings: Theatre & Engineering, Some More Beginnings at the Brooklyn Museum, the Pepsi Pavilion at Expo '70 in Osaka, Japan, the 1970s Projects Outside Art, and the current film project to produce documentaries on each of the artists' performances at 9 Evenings.
She will also speak to the historical importance of E.A.T.'s work to promote collaborations between artists and engineers, collaborations that not only made it possible for artists to incorporate new technology into their work, but also provided a means for artists and engineers to play a more active role in many areas of contemporary society.
Advance RSVP is required. Seating is limited.

Advance Tickets: $15 ($19 after Monday, Nov 26, and Pay at the Door)

Students (non-IFA): $7

IFA Students: Free (but please RSVP in advance)
In the event that registration fills, you may place your name on a wait-list by sending an email to info@nyrac.org.