Where
University of Chicago-Gleacher Center
450 N Cityfront Plaza Dr
Chicago, IL 60611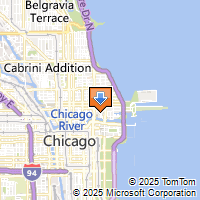 Driving Directions
Pricing
Early Bird Rate:
Register before June 1st
$1,275 per person
(15% discount!)
Group Rate:
For Groups of 5 or More
$1,200 per person
(20% discount!)
For Group Registration
Call 312-755-0234
Regular Rate:
Register after June 1st
$1,500 per person
Catering
Ticket price includes breakfast, lunch and beverage services onsite by Wolfgang Puck Catering.

LeVette Straughter

S. Graham & Associates

312-755-8170

seminars@stedmangraham.com
Travel Arrangements
For travel and hotel arrangements contact Jerry Tampier of Creative Travel at 312-326-0027.
Join us in Chicago on Saturday, July 20th
For Stedman Graham's 9 Step Success Process
Identity Leadership Seminar for Executives
Stedman Graham will guide business professionals and executives in developing skills to lead both professionally and personally.
Graham's seminars are based on his Identity Development program and the 9-Step Success Process that has guided his own professional development.
What is Identity Leadership?
The Identity Leadership Seminar challenges fundamental assumptions about leadership in today's professional world. In business, efficiency is important. But success in the 21st Century marketplace is no longer just about the process and the results; it's also about the people involved, reputation, direction, and knowing who you are.
Stedman Graham understands that effective leaders in the business world today are relationship-focused. Effective leaders inspire a sense of common purpose within the workplace by establishing relationships with and among their team rooted in trust, respect, and mutual appreciation. To cultivate these relationships, a true leader must first develop a clear and authentic sense of self. The Identity Leadership seminar uniquely focuses on helping participants develop their identity as a foundation upon which they will build a plan for both personal and professional success.
An effective leader operates with a strong sense of purpose and integrity, takes risks, understands the importance of change and is ready for it. Leaders must be self-aware and self-motivated to master and respond to the challenges of the leadership role. They must possess an appreciation of learning and the wisdom to adapt new ways to learn.
Relying on the 9 Step Success Process as a development platform, the Identity Leadership seminar enhances participants self-awareness as a basis for leadership development. The seminar guides participants to place all of their gifts in the spotlight of their awareness to achieve success. Participants come away from the seminar with a plan, which they can build upon as they move forward and continue to use as they navigate the future.
Seminar Details
Join Stedman Graham in downtown Chicago for a seminar including group exercises, presentations and development activities.
Participants will receive an Identity Leadership workbook and the following titles by Stedman Graham:
You Can Make It Happen: A Nine Step Plan For Success
Stedman Graham's professional development has been guided by the philosophy he outlines in this New York Times bestseller.
Identity: Passport to Freedom
A pocket-sized synopsis of the 9 Step Success Process in a concise and easy-to-read format.

Identity: Your Passport to Success
In this Wall Street Journal bestseller, Stedman Graham provides a working definition of a strong identity and shares powerful insights about why happiness and success flow directly from it.
For questions contact S. Graham and Associates at 312-755-0234 or via email at seminars@stedmangraham.com.

About Stedman Graham
For more than 15 years, Stedman Graham has provided leadership training based on the 9 Steps to Success outlined in the New York Times bestseller You Can Make it Happen. He has helped thousands of business professionals, leaders in government, students and everyone in between gain greater self-awareness and learn how to engineer the right strategy for their success.