This is your chance to learn more about your local airport. We invite you to ask questions about our airport, our aircraft, our flight school, learning to fly an aircraft, or a helicopter. This is your day to learn more about us, our passion and our community.
Come early and join our aviation community for breakfast at the Runway Café. Come later and enjoy lunch. The Café has a great view of the taxiway and runway, and is open from 8 AM to 4 PM.
We invite pilots to fly in for the day to visit our beautiful airport, N14, and put their aircraft on display.
Freeflight Aviation will display some of our favorite aircraft. Our feature aircraft for this event will be our Diamond DA20 and Diamond DA40 Aircraft. Freeflight offers flight training in a Diamond DA20 and DA40. Through one of our flight school members, we offer a flight time share program in a G1000 Diamond DA40.
Check out this great Learn to Fly page from the EAA
Best of all, one of our previous flight school members purchased a DA40, for flight enjoyment. It's an aircraft his family enjoys, and is often used for their family vacations.
Our local Diamond Distributer may provide us with additional Aircraft for display, and explain some of the Diamond Aircraft programs for leasing back an aircraft with a flight school, and the Diamond Share Program.
The Diamond Aircraft are known for their safety record and their modern glass panel of avonics. Additional information on these systems can be found on the Diamond Aircraft and GlassPilot websites.
Diamond Aircraft flight training program preferance is the Online Jeppesen Training Program. This program features the Diamond Aircraft, plus Jeppesen offers additional reference material, just for the Diamond Aircraft.
Jen Hotsko, from PALS - Patient Airlift Services will be attending our event and will have a table full of brochures about their services.
Our local NJ EAA Chapter, 1348, will offer Young Eagle Flights to young adults, ages 8-17. These flights are offered on a first come bases. Please come early, if you are interested in a flight around the patch (our beautiful airport).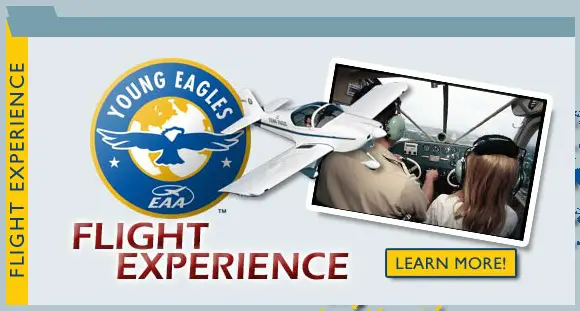 We encourage young adults interested in a career path with aviation to visit the Young Eagle website and take the Sporty's Online Fly Course. If this course is completed, the young adult will be sent a certificate for a FREE First Flight Lesson at any participating flight school, including Freeflight Aviation.
Freeflight would like to offer you the chance to take a 1/2 hour or 1 hour Discovery Flight.
When you register for our International Learn to Fly Day Event at the Flying W Airport, you can purchase one of these flights. Offered as a Discovery Flight Package, we have added a first flight logbook and more. You can chose to take a Discovey Flight on May 18th - International Learn to Fly Day, but you must call us at to schedule the flight soon, our aircraft may get booked up early due to this event. You can also purchase our Discovery Flight Package, and fly another day. It's up to you.
We hope to see you May 18th.
Please come for a visit and enjoy the day at the Flying W Airport!
YOU ARE ALWAYS WELCOME TO VISIT WITH US AND OUR LOCAL AIRPORT ANYTIME.