When
Friday May 9, 2014 at 1:00 PM EDT
-to-
Saturday May 10, 2014 at 5:30 PM EDT
Add to Calendar
Where
Redford Aldersgate United Methodist Church
10000 Beech Daly
Redford, MI 48239
**Please note: I-96 will be closed in both directions from Newburg Rd to Telegraph Rd at the time of the conference. **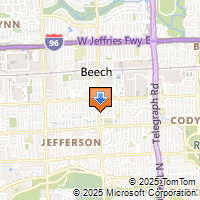 Driving Directions
For registration contact: Marsha Pettinger
sparkllle@gmail.com
For any other questions, contact Rhonda: rhondalll@gmail.com or 734-624-8363
Lunch:
Lunch is not included in the conference registration. Space will be available to eat your brown bag lunch at the conference facility or across the street at a local park. There are also multiple restaurants within three miles; a list will be available at the registration desk.
Hotel Information: The two closest hotels about 3.5 miles from the conference facility. They are: Comfort Inn, 29235 Buckingham Ave, Livonia, MI (734) 458-7111 and Americas Best Value Inn, 28512 Schoolcraft, Livonia, MI (734) 425-5150.

About LLL:
The mission of La Leche League International is to help mothers worldwide to breastfeed through mother-to-mother support, encouragement, information, and education, and to promote a better understanding of breastfeeding as an important element in the healthy development of the baby and mother.
La Leche League is an international, nonprofit, non-sectarian organization dedicated to providing education, information, support and encouragement to women who choose to breastfeed.
Children at the Conference: Babies and children interacting with their parents are an LLL Conference's most distinctive and heartwarming sight. Families are responsible for considering and meeting their children's needs. If during a session your child becomes disruptive or needs comforting, everyone appreciates your reason for leaving the room and returning when your child is ready. Caregivers must be at least 12 years old and have your complete schedule.
Strollers: Due to fire and insurance regulations, strollers are not permitted in the conference area. Exceptions will be made for an individual bringing multiples or if she or her child is physically challenged. To request a stroller permit, please indicate this need on your registration form. Protect your little one's safety in your arms or in a baby carrier.
Help Wanted: We are looking for parent and teen volunteers to help with the Silent Auction and at the Information/ Registration desk. Volunteers will be scheduled for one or two sessions and will be entitled to a coupon worth $5 in Theme Basket tickets. To volunteer, please sign up at: http://www.signupgenius.com/go/10C0545A8A62DAB9-lllm or contact Jan at jcranston@wideopenwest.com
Refund Policy: Requests for refunds must be made in writing. Meals, donations, and merchandise are non-refundable. Full refunds (less a $15 handling fee) will be given on registration and activity fees, if the request is made prior to May 2, 2014. No refund requests will be honored after May 2, 2014. Send a self-addressed stamped envelope to Marsha Pettinger, 868 Waverly, Eaton Rapids, MI 48827. All refunds will be made after the conference.

La Leche League of Michigan Sales Table: Take the time to visit the La Leche League of Michigan table. There is a great selection of items, including 50th Anniversary mugs and logo stickers.
Silent Auction and Theme Baskets: There will be a fabulous Silent Auction and Theme Basket area. The Silent Auction will feature a collection of donated items that will tempt and delight you! Bid on a variety of products and services useful to parents and children. Also, enter the drawings for the Theme Baskets for everyone in the family. Tickets will be ten for $5 or one for $1. Additional items are always needed for the Silent Auction and LLL Groups are encouraged to donate a Theme Basket. Silent Auction payments can be made with cash, check, or credit card. Please indicate on the registration form if you will be donating an item.
LLL Group Boutique: Handcrafted items, unique offerings, and children's gifts are a few of the many finds prepared by Michigan Area La Leche League Groups. LLL Groups interested in participating need to indicate this on the registration form. Please include the Group name and a contact person's name, address, phone number and a description of the items you intend to stock. LLL of Michigan reserves the right to refuse inappropriate items or those which compete with other vendors. Cost $6 for a half table.
T-Shirts & Totes: We are offering 100% cotton unisex t-shirts in children & adult sizes for pre-order purchase. T-shirts will have a small conference logo on the left side. $10/adult (S, M, L, XL, XXL) and $8/child (2-4, 6-8, 10-12); totes and mugs will be $10 each. Place your order by April 24 for pickup at the Registration Desk.
Tributes: For just $3.50 per tribute, you can thank the Leader who accredited you or show your appreciation to a special Leader or Group member, recognize the important mothers in your life, or just say 'Hi!' to a friend or loved one. Write your personal message on the registration form in the space provided. NOTE: To be included in the program booklet this information must be received by May 2, 2014.
Children & Grandchildren of LLL: Your children and grandchildren will be delighted to see their name in the Program Booklet for just $2 per name. Please list their names on the registration form. Note: To be included in the program booklet this information must be received by April 30, 2014.
LLL Memberships: La Leche League membership of $40 ensures that LLL will be here for mothers and babies for years to come! Join now with your conference registration for a conference discount of $10! Be sure to use the special rate line of the registration form.
La Leche League of Michigan Area Conference
Conference Schedule
Friday, May 9, 2014 1-4:30 pm Leader and Leader Applicant Day: Join the Area Team for an afternoon plenary session full of information designed just for you.
4:45-6:45 pm Area Council Meeting and Dinner 6:30 pm Registration Open 7 pm Family Fun
Saturday, May 10, 2014 8-9 am Registration 9-9:30 am Welcome and Opening Session 9:45-11 am Session 1 11:15-12:30 Session 2 12:30-1:45 Lunch 2-3:15 pm Session 3 3:30-4:45 pm Session 4 5-5:30 pm Closing & Theme Basket Drawing
Registration Fees
Registration is now close.
Walk-in registrations welcome.

Leaders and Leader Applicants $50
Members $60
Non-Members $110
Membership $40
Late fee of $20 added to registrations submitted after April 24, 2014.

Not a member? Contact your local La Leche League Group for membership information or purchase it with your registration.
Topics and Descriptions
Session 1
101 Breastfeeding In The First Three Months--Basic breastfeeding management for an optimal breastfeeding experience. Proper positioning and latch and meeting early challenges Laura Spitzfaden
102 Toddlers 101--Discuss toddler nursing, nighttime parenting, setting limits and more. Respecting the needs of your toddler while respecting yourself. Bring your questions and issues Cat Hindersman
103 Birth And Breastfeeding--The effect of childbirth events and clinical interventions on a mother's ability to breastfeed. Jeanette Albright
104 Holding onto Your Passion--Staying involved and enthusiastic about La Leche League well after your last child weans. What do you have to offer and receive? Anne Cook and Mary Swisher
105 Gender Matters--Understanding how girls and boys learn differently and why it matters Jane Pierce Mueller
Session 2
201 Seeing The Bigger Picture--A mother calls with sore nipples. Is it thrush, tongue-tie, poor positioning? Honing skills all Leaders have to help identify the root of a breastfeeding problem. Sharing strategies and tips for helping a mother by phone, email, or text. Marilee Woodworth
202 "But All My Friends Can …"--Coping with other parenting styles as your school-aged child explores outside of the nest. Maintaining your standards to ensure safe kids while allowing them the chance to socialize. Zaje Harrell
203 CELEBRATING THE TIMES OF OUR LIVES--Creating special family traditions and rituals to celebrate rites of passage for our children and families, including weaning, loss of baby teeth, graduation, half-birthdays, menarche, moving, getting a new job, and grieving. Will also discuss negotiating the different values and expectations from the parents' families of origin and ideas to handling holiday stress. Amity Pothoff

204 Finding and Retaining Leader Applicants--Leaders, do you need some fresh new ideas to keep your Group vital? Brainstorm with Leader Accreditation Department staff ways to discuss philosophy and leadership with an interested mother. Keeping the process simple and accessible for you and your prospective Applicant. Leader Accreditation Department Staff
205 Creating Non-Toxic Cleaning Products--Making your own nontoxic cleaning kit will take you no time at all with simple items found in your home. Bring an empty spray bottle and go home with a natural, healthy disinfectant spray to use as well. Kristy Grimes
Session 3
301 The Mechanics of Pumping--Helping new mothers who need to pump. The mechanics of how a pump works. Ways to build, maintain and increase supply with a pump. Alyse Lange
302 Calm and Confident--Words and strategies for dealing with criticism and conflict in the doctor's office, in school, or with family. Nora-Lee Luttrell

303 Cooking from Scratch--Ideas for staples to keep in the kitchen that can replace some of the pre-packaged items in your cupboard. Will also include ideas for quick meals that don't take all day to make. Dani Geraci
304 One Cause--Discuss how to keep breastfeeding the primary focus while encountering hot parenting topics like co-sleeping, vaccinations, and birthing options. Will include a conversation about finding balance when filling both roles of Leader and lactation consultant. Marsha Pettinger and Laura Spitzfaden
305 Nursing Two, is it for You?--Discussing tandem nursing, the joys and logistics, as well as how to manage ambivalent feelings and criticism. Includes a discussion of breastfeeding through pregnancy. Jessica Lopez
Session 4
401 Tongue Tie & Orofacial Development-- Explore the significance of the treatment of lip and/or tongue ties, from breastfeeding to adulthood, from the view of an experienced dentist. Session will include videos of babies breastfeeding before and after treatment and the impact of frenum restrictions on orofacial development. Dr. Annette Skowronski Session Full and Closed

402 Is LLL leadership In Your Future?--Have you ever considered becoming more involved in La Leche League? Come to this session to learn about LLL leadership from members of the Michigan Leader Accreditation Department staff.

403 TOOLS FOR LOVING GUIDANCE--This session will provide parents with specific tools helpful in defining boundaries while respecting both the needs and feelings of their children. Age-appropriate expectations will be discussed. Lynn Huber
404 Squeezing Every Penny--Discuss strategies to stretch every dollar for your family. Will include a handout full of hints to help keep your budget in the black. Angela Mayer