Young Friends of Dred Scott
5th Annual Educational Field Trip
Dred Scott Footprints Bus Tour
This fascinating bus tour of the St. Louis area will visit and discuss almost 40 locations and memorials that connect to the person and cause of Dred Scott's case for freedom. Lessor known art and memorial honors that have recognized him throughout the nation that speak to the significance of this man and the influence of his case will surprise and delight you. Many are unknown and right under our noses. Join us for this one-of-a-kind tour narrated by descendants of Dred Scott.
This is a tour of things old and new you won't want to miss it!
Come Explore Our History!
Space is limited so register today.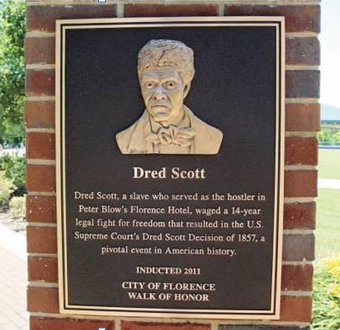 Cost of $75 per person includes: spacious multimedia coach bus with restroom, restaurant lunch, games, raffles, souvenirs, photo ops, (definitely bring your camera) and very special guests along the route.
Tour begins at 8:30 a.m., returning by 3:30 p.m. You will be notified of secure parking location after registration confirmation.
Children under 16 must be accompanied by an adult. Wear comfortable shoes, boarding and disembarking as desired.