UNM Main Campus Architectural Tour :: Preserving Historic Architecture and Archives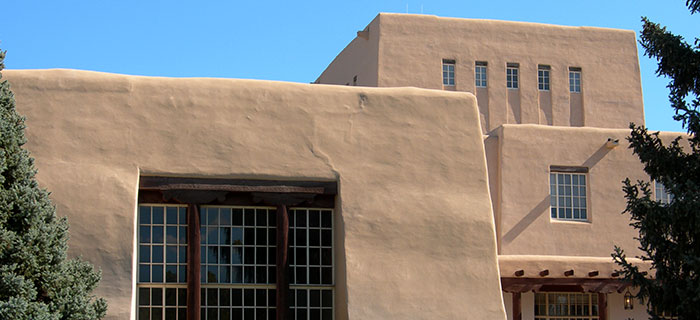 The New Mexico Architecutral Foundation invites its members, students, and AIA New Mexico Conference attendees for a special tour of UNM's Main Campus.
Audra Bellmore, Ph.D., Associate Professor and Curator of UNM's Center for Southwest Research and Special Collections, will lead a tour of UNM highlighting its unique architecture.
Tour particpants will visit the John Gaw Meem Archives with Dr. Bellmore, who will discuss the archives' holdings, archival methods and standards, and Zimmerman Library, the Meem-designed building that houses the archives. She will describe UNM's historic preservation program and the building inventory on which it is based. She will lead a tour of part of the main campus of the university, emphasizing significant buildings and characteristics of this distinctive and cohesive landscape.
Architects will be able to apply for 2 HSWs (in addition to the 13 CEUs offered at the conference).
It is recommend that you arrive at 9:30am at the Center for Southwest Research in the Zimmerman Library. The tour begins promptly at 10:00am.
Space is limited, so be sure to register early!