Important note: Check-in begins at 10:00 AM; Shotgun start is at 11:00 AM

Where
Western Hills Country Club
1800 Carbon Canyon Road
Chino Hills, CA 91709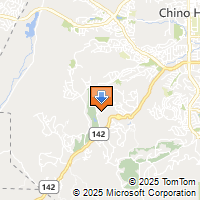 Driving Directions
November 2015 Golf Tournament

Join us at the Western Hills Country Club in Chino Hills. We need 40 golfers to make this tournament possible. Reserve your spot(s) today!

COURSE INFORMATION

Men will be playing from the white tees; women will be playing from the gold tees. For men's white tees: course rating 71.0; slope rating 128; and 6,401 yards. For women's gold tees: course rating 75.9; slope rating 136; and 5,858 yards.

TOURNAMENT INFORMATION
Time
Check-in begins at 10:00 a.m. and shotgun start is at 11:00 a.m.

Scoring
For those that provide an SCGA number, your handicap will be used, based on your index. For those without a handicap, the Callaway Scoring System will be used to determine net score.

Prizes
R&S Processing and R.D. Abbott Company, Inc., are sponsorsing $1,000 for the first "Hole-in-One."
In addition to the "Hole-in-One" prize, awards will be issued for 1st, 2nd, and 3rd place. Other prizes will be issued for "Longest Putt" and "Closest-to-Hole" (for two par-threes). A raffle with giveaways will also take place after dinner.

Dress Code
Players must wear soft-spike shoes, a collared shirt, and slacks or Bermuda shorts. Players may not wear jeans, short shorts, or a t-shirt.

COSTS

The cost is $95 per player for TLARGI members and guests, and $80 per player for TLARGI Emeritus. These costs include 18 holes of golf, a cart, range balls, dinner, and prizes. You may pay by credit card or check. Credit card payments can be made online by clicking the "Pay Now!" button below.

Checks should be made payable to TLARGI and can be received either at the tournament OR mailed in advance to the following address: (Please indicate for whom the check is paying.)
TLARGI Golf
c/o Claudia Hargett
540 S. Cypress Street
La Habra, CA 90631

(Please reference Account #408-15 in the memo line.)
RESERVATION DETAILS

To reserve your spot(s), click on the "Register Now!" button below and complete the online registration form. If you have any questions, contact Claudia Hargett at claudiah@viprubber.com or (562) 905-3456