Attendees, sponsors and exhibitors can register online below.

Registration Information:
$150/person–Full Registration

$50/Professor/Student–Full Registration (must provide school ID)

$350/Exhibitor fee

*



*Exhibitor fee: As a special promotion, exhibitor spaces are available at a cost of $350 which includes 2 full registrations, meals, conference materials, activities, reserved space with a 6ft skirted table and 2 chairs. Exhibit booth space is limited and reserved as a first come, first serve basis.
*Set-up and Move-Out: Exhibit setup will be Tuesday, September 27, 2016 from 9:00 a.m. to 11:00 a.m. Exhibit move-out will be Wednesday, September 28, 2016 from 3:00 p.m. to 5:00 p.m. There will be no vehicle access to the showroom floor.
Please be aware, TAMIU is not responsible for any items left behind/overnight. Furthermore, each exhibitor will be responsible for setting up and tearing down their own display(s). All exhibitors will be responsible for providing their own supplies such as power strips, extension cords, etc.
*Please contact the LDF staff should you need an exhibit space with electric accessbility. (There are only 6 exhibit spaces available and are on a first come, first serve basis)

Where
Student Center Ballroom
Texas A&M International University -Student Center
5201 University Blvd.
Laredo, TX 78041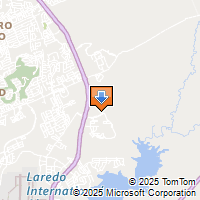 Driving Directions