Reducing Emissions by Pricing Carbon: How Microsoft and Yale are leading the charge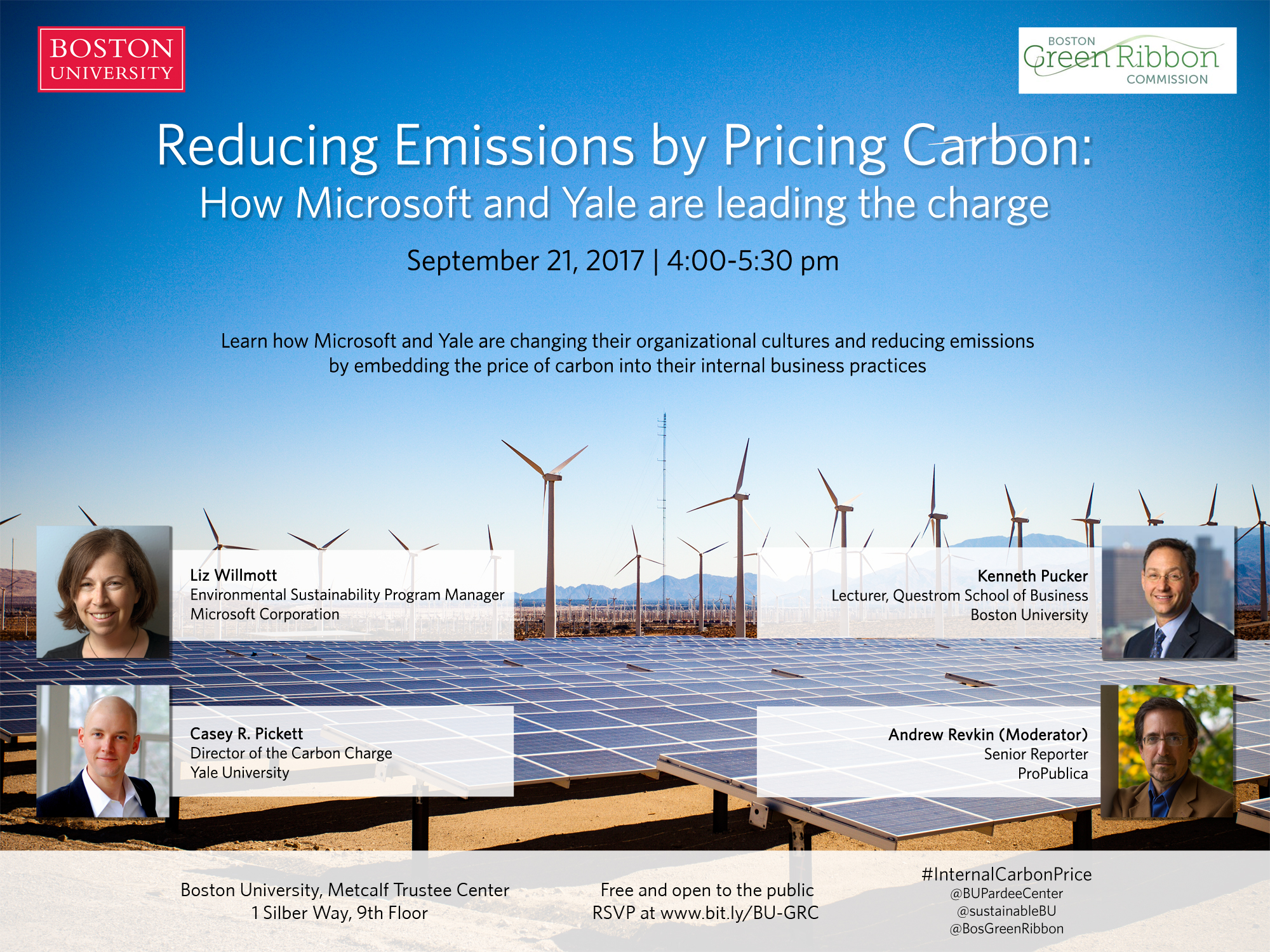 WATCH LIVE
Please join the Boston Green Ribbon Commission and Boston University for a panel discussion on Internal Carbon Funds on Thursday, September 21, from 4:00-5:30 pm at the Metcalf Trustee Center on the 9th floor of 1 Silber Way. This event was originally scheduled to take place last March, but was postponed due to inclement weather.
From college campuses to Davos, carbon pricing is a policy instrument regarded by climate scientists, economists, and political and business leaders as an important part of efforts to mitigate global climate change.
We have an exciting panel:
Microsoft's Liz Willmott
will explain how in its first five years the company's carbon pricing program changed the company's culture, reduced carbon emissions by more than 9 million metric tons, purchased more than 14M MWh of renewable energy, and helped reduce energy consumption more than 10% across the Redmond campus. Liz is Microsoft's environmental sustainability program manager.
Yale's Casey Pickett
will present the experience of implementing Yale's carbon charge program following the leadership decision to use the campus as a test bed for carbon pricing. Casey is Director of the Carbon Charge at Yale.
BU's Kenneth Pucker
will discuss effective carbon pricing and organizational behavior based on accurate measurement of climate impacts. Ken is the former COO of Timberland and Lecturer, Organizational Behavior, at the Questrom School of Business.
ProPublica's Andrew Revkin
will moderate. Andy is Senior Reporter on Climate Change at ProPublica and former environmental reporter at
The New York Times
, where he wrote the Dot Earth Blog.
This event is free and open to the public. Seating is limited.