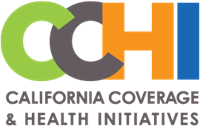 Champions for Coverage Awards Reception
California Coverage & Health Initiatives (CCHI) invites you to attend our 10th Annual Champions for Coverage Awards Reception to be held on Monday, April 2nd from 5-8PM. This is the night we honor the leaders in health coverage who created a positive change for all Californians. It is also a time to celebrate the efforts of CCHI's member organizations that work tirelessly to ensure that all children and families have access to quality, affordable health coverage and care. We are joined by our community partners and other supporters who are vital to covering and caring for California's families.
Your attendance helps raise awareness about the importance of making better health options a priority for us all.
CCHI members: Please do not register using this form; you will register using a form that allows you to register for our membership meeting as well as this reception. This form will be sent via email.