Where
Courtyard by Marriott Boston Downtown
275 Tremont Street
Boston, MA 02116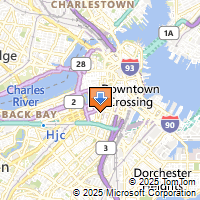 Driving Directions
Contact
Barb Dimauro, 413.896.6733

AGENDA AT A GLANCE

11:00 a.m.
Registration Opens

11:30 - 12:00
Welcoming Reception
Networking

12:00
Guests Seated for Lunch

12:15
Welcoming Remarks


12:25 - 12:45
Lunch

12:45
Keynote Speaker - Jeanne Dasaro, Founder, Wonder Women of Boston

1:00
Awards Presentation Begins

2:30
Conclusion
Women of FIRE Luncheon
THURSDAY, JULY 19, 2018 COURTYARD BY MARRIOTT DOWNTOWN BOSTON, MA
Please join us as we celebrate the 8th Annual Banker & Tradesman Women of FIRE awards, presented by American Business Media. We asked you: Who are the women leaders in finance, insurance and real estate? You answered in a big way! This year's class is our biggest yet with 17 of the top women in the FIRE sector coming out winners. On Thursday, July 19th, we will honor these amazing women with a luncheon and presentation of Women of FIRE awards.
2018 Women of FIRE
Jean Carroon, Principal, Goody Clancy
Elyse D. Cherry, CEO, Boston Community Capital
Lydia G. Chesnick, Partner, Bernkopf Goodman LLP
Lisa J. Drapkin, Agent, True Home Partners, Coldwell Banker
Cheryl Eidinger-Taylor, Agent, ERA Key Realty Services
Krista Evans, Project Manager, Acella Construction Corporation
Meredith Harris, Executive Director, Marlborough Economic Development Corporation
Barbara Heinemann, EVP, Consumer Banking, Eastern Bank
Mary T. Marshall, Partner, Nutter
Janice Morse, President & CEO, Newburyport Five Cents Savings Bank
Linda O'Koniewski, Owner, RE/MAX Leading Edge
Marie Presti, Owner & Broker, The Presti Group
Dorothy A. Savarese, President & CEO, Cape Cod Five Cents Savings Bank
Lisa Serafin, Partner, Redgate
Regan Shields Ives, Principal, Finegold Alexander Architects
Deborah Sousa, Executive Director, Massachusetts Mortgage Bankers Association
Julieann Thurlow, President & CEO, Reading Cooperative Bank
Sponsorship Opportunities
Show your support for the 2018 Women of FIRE and all women in the finance, insurance and real estate sectors by sponsoring the awards ceremony. Your firm will be front and center as a supporter of the program that honors these extraordinary women in business. Questions? Contact Barb Dimauro at 413.896.6733 or bdimauro@ambizmedia.com.
Gold Sponsorship - $3500.00
10 Event Tickets
Signage at Event
Company Logo on all Women of FIRE Promotional Materials
Opportunity to Distribute Company Literature at Event
Full Page Ad in Women of FIRE Supplement/Program Guide
Attendee List with All Available Contact Information
Opportunity to Speak at Event
Silver Sponsorship - $2500.00
5 Event Tickets
Signage at Event
Company Logo on all Women of FIRE Promotional Materials
Company Mention from Podium at Event
Attendee List
Half Page Ad in Women of FIRE Supplement/Program Guide
Bronze Sponsorship - $1500.00
2 Event Tickets
Signage at Event
Company Logo on all Women of FIRE Promotional Materials
Company Mention from Podium at Event
Quarter Page Ad in Women of FIRE Supplement/Program Guide