Tour • Explore • Learn More!
Where
SUNY Ulster - Stone Ridge Campus
491 Cottekill Road
Stone Ridge, NY 12484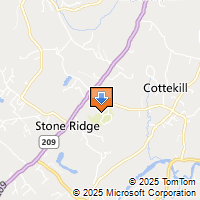 Driving Directions
SUNY Ulster Admissions
Enrollment & Success Center
845-687-5022
admissions@sunyulster.edu
SPRING OPEN HOUSE: Saturday, April 27, 2019 SUNY Ulster's Stone Ridge Campus
Spring House Open House Schedule • Doors Open to Public at 8:30 AM
8:30 AM • Event Check-in • Senate Gymnasium • Get Your Personalized Event Schedule & Meet Your Open House Ambassador
8:30 AM - 9:00 AM • Meet the Leaders Continental Breakfast • Senate Gymnasium • Welcome Address presented by Dr. Alan P. Roberts, College President • Opening Remarks presented by Kevin Stoner, Vice President of Academic Affairs
9:00 AM - 10:00 AM • Academic Programs & College Services Fair • Senate Gymnasium • Not sure what to major in? Interested in studying abroad? Thinking about taking on an Internship? Want to transfer to finish your four-year degree? Join us at the info fair and make connections with SUNY Ulster faculty, staff, and current students to find the answer to all your questions! Representatives will be available to talk to you about our academic programs, services, resources, scholarships, exciting opportunities, campus life, student activities, athletics, and much more.
10:00 AM – 11:00 AM • Academic Program Presentations (Please select one)
Option I: Financial Aid 101: Top FAQ's About Applying for Aid Using the Free Application for Federal Student Aid (FAFSA) Presented by Chris Chang, Director of Financial Aid • Location: College Lounge VAN 203, Vanderlyn Hall
Option II: Academic Resources Panel Featuring SUNY Ulster representatives from our Learning Center, Student Support Services, TRIO, and EOP programs •

Location: Classroom VAN 247, Vanderlyn Hall
Option III:

Adult Learners: The Balancing Act of Work, Life, and College • Presented by Dr. Mindy Kole, Associate Dean of Adult Learning • Location: Classroom VAN 113, Vanderlyn Hall
Option V: Academic Program Tours and Information Sessions •

Location: Departing from the Senate Gymnasium

Business Programs & Professional Studies Information Session
Criminal Justice and Human Services Information Session
Computer Science & EngineeringTour
Fashion Design Tour
Fine Arts & Graphic Design Tour
Music & Theatre Arts Tour
Graphic Design & Fine Arts Tour
Nursing and Veterinary Technology Facilities Tour
11:00 AM – 12:00 PM • Information Sessions & Panel Discussions (Please select one
Option I: Registration 101: Understanding the Anatomy of Your Academic Degree Plan • Presented by Matthew T. Green, Interim Vice President of Enrollment Management • Location: Quimby Theater, Vanderlyn Hall
Option II: SUNY Ulster & Excelsior Scholarship Info Session • Presented by Sheila Dvorak-Galione, Development Associate • Location: College Lounge VAN 203, Vanderlyn Hall
Option IV:

Study Abroad, Academic Travel, & Collaborative Online International Learning Program Info Session • Presented by Chris Seubert, Coordinator of Academic Travel and Hope Windle, COIL Coordinator • Location: Classroom VAN 112, Vanderlyn Hall
Option V: Athletics & Campus Life Panel Discussion • Presented by Ashley Kellog, Assistant Director for Student Services and Director of Athletics, and Meg Sheeley, Coordinator of Campus Life • Location: Classroom VAN 111, Vanderlyn Hall
12:00 PM - 1:00 PM • Complimentary Buffet Luncheon with SUNY Ulster Faculty & Staff • Student Life Center Dining Hall located in John Vanderlyn Hall Welcome Address
1:00 PM - 2:00 PM • Program Presentations, Information Sessions, & Tours (Please select one)
Option I: Financial Aid 101: Top FAQ's About Applying for Aid Using the Free Application for Federal Student Aid (FAFSA) • Presented by Chris Chang, Director of Financial Aid • Location: Classroom VAN 111, Vanderlyn Hall
Option II:

Instant Admissions Session: Bring your official high school transcript, or high school equivalency and other official academic transcripts you may have to this session. Fill out an application and an Admission Representative will review your application on the spot • Location: Classroom VAN 112, Vanderlyn Hall
Option III: General Campus Tours •

Location

:

Departing from our Student Life Center Dining Hall, Vanderlyn Hall
Option IV: Early College Opportunities for Academically Talented High School & Home Schooled Students • Presented by an Admissions Representative • Location: VAN 203, College Lounge
Option V: Nursing Program (RN) Info Session • Presented by Lisa Moruzzi RN, MSN, Department Chair • Location: Session group departing from the Student Life Center Dining Hall to Nursing Lab Classroom HAR 134, Hardenbergh Hall
Option VI: Veterinary Technology Program Info Session • Presented by Dr. Beth Alden, Coordinator of Veterinary Technology • Location: Session group departing from the Student Life Center Dining Hall to Veterinary Technology Lab Classroom, ALG 119