Where
Hilton Philadelphia at Penn's Landing
201 S Christopher Columbus Blvd
Philadelphia, PA 19106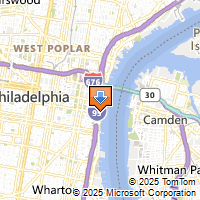 Driving Directions
$125 "Early Bird" by 2/15/19* ($160 after 2/15/19)
Mid-Level-Providers, Nurses,
Fellows & Residents:
$75 "Early Bird" by 2/15/19* ($110 after 2/15/19)
*Price reflects discount of $6 for cash or check; $6 additional for credit card payment
Awarding of MOC points requires additional attestation, post program evaluation and test questions.
SYLLABUS
Several days prior to the program a syllabus including presentations will be available for download from a secure website. At registration you will receive a USB storage device with the same information at no additional charge At the conference, neither printers nor electrical outlets are available for attendee use. Hard copy black and white syllabus including presentations may be ordered in advance for $50,and are available at registration. Hard copy syllabi must be ordered by March 1st 2019.
Faculty PowerPoint presentation handouts are for the use of course attendees only pre and post-conference. This material may not be used, shared or distributed electronically.
FREE Apple iWatch Drawing Details
In order to be entered into the FREE Apple iPad Drawing you must:
1. Register and pay for CVI's 8th Annual EP/Arrhythmia Management Update by Friday, February 15, 2019.
2. Submit your fully completed online program evaluation for CVI's 8th Annual EP/Arrhythmia Management Update by 5:00PM EST on Friday, March 29, 2019.
And you are entered to win... It's as easy as that! Winner will be contacted via email.
Contact
Janet Noel
Cardiovascular Institute of Philadelphia
cvi.janetnoel@verizon.net
215-389-2300

Phone 215-389-5450 Fax