Registration is Free! Light lunch will be served.
Where
Cornerstone Christian Community Church
9680 Ninth Line
Markham, ON L6B 1A8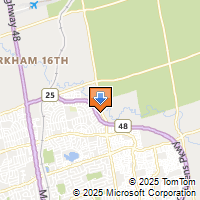 Driving Directions
Alda Tee
Central East Stroke Network
705-728-9090 ext 46311
teea@rvh.on.ca
Community Stroke Partners Day - Markham
A day for healthcare and community service providers to network, share information, and learn about community agencies and programs that support community reintegration following stroke.
Intended Audience
Stroke service providers across the continuum of care, serving Markham and surrounding areas.
Agenda - Tentative
1130-1200

Registration, Explore Exhibits, Network and Lunch
1200-1210

Welcome
1210-1220 Introductions
1220-1235 Speaker (Stroke Survivor)
1235-1310 Rapid Podium Presentations (3)
1310-1325 Table Discussion
1325-1405 Rapid Podium Presentations (3)
1405-1440 Break, Explore and Network
1440-1515 Rapid Podium Presentations (3)
1515-1530 Wrap up and Evaluations
Rapid Podium Presentations Include:
Fishability Sports
Windreach Farms
March of Dimes Aphasia and Communication Disorders Program
Virtual Visiting Program - CHATS
March of Dimes Programs
Assistive Devices Exchange Program
Saint Elizabeth Driver Assessment and Training
1 to 1 rehab
TBD