When
Friday, October 25, 2019 at 5:00 PM EDT
-to-
Monday, October 28, 2019 at 1:00 PM EDT
Add to Calendar
______________________________________________
Where
Gideon Putnam Hotel
24 Gideon Putnam Rd
Saratoga Springs, NY 12866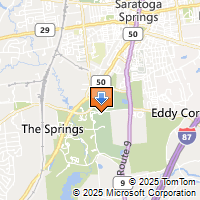 Driving Directions
HOTEL REGISTRATION INFORMATION
Sign up now to take advantage of the early bird rates. Remember to make your hotel reservations by September 20, 2019. The Gideon Putnam will not guarantee room availability after this date.
All room reservations must be done by phone. Online reservation is not available.
Room Rate: $169.00/night
Call The Gideon Putnam reservation line at:
Toll Free: 1.866.746.1077
Group Code: 9nb87a
Event Name: NYSSEA Conference 2019 - NYS Society of Enrolled Agents.
One night's deposit of $189.84 will be charged to your credit card at the time you make your reservation and is refundable if cancelled within 3 days prior to your arrival.
Contact Conference Registration Chair:
Koreen Jervis, EA
Business phone: 212-677-1132
FAX: 646-390-1455
Cellphone: 917-797-6610
Email: koreen@korjetax.com
Professional Photo Opportunity
The NYSSEA Board has made arrangements to have a professional photographer available during the Sunday evening events (October 27 from 5:30PM - 7:00PM), to take professional digital images for the NYSSEA Board and any other interested conference attendees.
The fee for this opportunity is $25.00, payable in advance ONLY, as availability is limited. See the Conference Registration Form to make your advance payment. These professional business images can be used on any printed or digital materials. Digital Images will be emailed to you within 3 weeks.
Conference Cancellation Fees:
Cancel ON or BEFORE Friday, October 4, 2019 - $50.00 fee
Cancel AFTER Friday, October 4, 2019 -
1/2 of total registration fee
PLEASE NOTE: By popular demand, the Conference CE Book will be available as a PDF download at least 7 days prior to the conference.You will receive an email and a link so that you can download the book prior to the conference. Hard Copy CE Books are still available for $25.00, if ordered when registering. CE Books will also be available for purchase at conference for $40.00 each.
Please bring an item to donate to the auction. Previous bestsellers include: wine or spirits, chocolate or other sweets, homemade gifts, gift certificates, etc.
NYSSEA 32nd Annual Conference - 2019
Presidential Call to Conference
This is YOUR OFFICIAL INVITATION to our 32nd Annual Conference and to take part in the business of your Society. Your Board of Directors has selected October 25th thru the 28th at the Gideon Putnam Hotel in Saratoga Springs, NY as our 2019 conference site. Your input and participation are invaluable, and we encourage you to attend. We are proud to welcome back Frank Degen, EA, USTCP, Sherrill Trovato, MBA, MST, EA, USTCP and Steve Ingraham, IRS Senior Stakeholder Liaison as well as another of our own Marc Dombrowski, EA to this year's conference. We are also excited to bring both Martin Finn, JD, LL.M, CPA/PFS and Kathryn Morgan EA, USTCP, to our conference. We are extremely fortunate to bring you these National-level instructors delivering outstanding education. Bob Kerr, EA will also be in attendance and we are happy to welcome him to our conference. Our conference committees have planned a fully filled weekend for you with the emphasis on learning while having fun. Friday afternoon class and early dismissal on Saturday was so well received last year that the Conference committee has decided to repeat it again this year. Additionally, Marc Dombrowski, EA will provide an opportunity to discuss your client issues Saturday from 9 a.m. – 4 p.m. at the Tax Resolution Help Desk, and NYSDTF will offer a NY-specific Tax Resolution Help Desk on Sunday from 9 a.m. – 4 pm. Please come prepared with your cases.
Included as part of this official Call to Conference are the registration forms (conference and class), business agendas for the meetings and hotel registration information and rates. Please review them carefully, noting deadline dates. Online registration and payment by credit card is preferred, but the ability to register by mail with check payment remains available. In changing with the times, your tax book will be in electronic form this year. We are however, offering you the opportunity to purchase a printed copy. Please indicate your preference on the registration form.
We will continue to have our annual Silent Auction, to be held throughout the weekend. Please bring an item to donate to the auction. Previous bestsellers include: wine or spirits, chocolate or other sweets, homemade gifts, gift certificates, etc. We would like to see all items bid on, so please consider the type of items you are donating. Only the items with the highest bids will be announced. All others will be posted.
There will be two Board of Directors Meetings; the first will be Friday at 2:00 p.m. and the second meeting will be Monday at 1:00 p.m. Board meetings are open to all interested members. At the end of the Board Meeting, we invite all attendees to our Friday evening NYSSEA Welcome Reception & Buffet starting at 7:30 p.m. This will be your opportunity to reconnect with long-time friends and associates and introduce yourselves to our first-time attendees! A Formal Banquet Reception is planned for Sunday evening with entertainment provided. You will not want to miss this event so please plan on attending the full conference.
This Call will serve as your Notice of the Annual Meeting under Section 6.02 of the Society's by-laws. The Annual Meeting is held during lunch on Saturday. The agenda appears below:
First Business Meeting Second Business Meeting
Saturday, October 26, 2019 Sunday, October 27, 2019
Lunch Lunch
Call to Order Call to Order
Approval of Minutes Approval of Standing Rules
Treasurer's Report Nominating Committee - Elections
President's / Officers' Reports Unfinished Business
Nominating Committee Report Adjournment
Nominations
All Other Reports
Adjournment
Hotel information is attached for Gideon Putnam. The block rate is guaranteed until September 20th so don't wait to reserve! Buffet breakfast, lunch and the Installation Banquet are included with your full-paid conference registration!
Take advantage of the "Early Bird" rates and sign up now! Join us for fantastic and timely classes, networking with collEAgues, and the NYSSEA annual meeting.
See you all at Gideon Putnam!
Michael E Lawrence, EA
NYSSEA PRESIDENT
Distinguished Conference Speakers
NYSSEA is pleased to announce the dynamic lineup of speakers for our Annual Conference. The wide range of class offerings was built from member suggestions on last year's conference survey. Speakers and CE classes include:
Kathryn Mary Morgan, EA, USTCP
The Sharing Economy - Airbnb and Temporary Housing, TCJA Update, Residential Rentals: Money Pit or Hidden Gem
Sherrill Trovato, MBA, MST, EA, USTCP
Ethics in the Real World, Tax Court Introduction, Sample Tax Court
Martin Finn, JD, LL.M., CPA/PFS
Estates and Trusts: Fiduciary Income Tax Issues, Tax Compliance Issues for the Elderly
Francis X. Degen, EA, USTCP
Sample Tax Court Case, TaxPrep/Tax Rep - Judicial Rules & Doctrines
Marc Dombrowski, EA
IRS Correspondence: Action and Reaction
Steve Ingraham, Senior Stakeholder Liaison, IRS
IRS Update
To view and print the complete CE class schedule, click here.
The Conference Registration Process
Before you click the Register Now button below, please click here to view and print the Class Schedule and Registration Information. It will help you make the correct selections for the conference.
This year there are TWO ways you can register. By clicking the button below, you can register ONLINE, using a credit card or check to complete your registration after choosing your classes and other conference options. If you are paying by check, be sure to mail the check, along with a copy of your confirmation email to Koreen Jervis, EA. Please note that credit card payments will be made through PayPal but you do NOT have to have a PayPal account to complete your transaction.
REGISTER BY MAIL: If you would rather print out the Registration Packet and complete the entire process by mail, you can view and print the Registration Packet by clicking here. Please note that the ONLY method of payment for those registering via mail will be by check. CREDIT CARDS WILL NOT BE ACCEPTED WITH MAIL-IN REGISTRATIONS. PAYMENT BY CHECK ONLY.