Where:
Mountain View College
Economic & Workforce Development Building
B Building
4849 W. Illinois Ave.
Dallas, TX 75211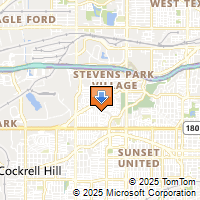 Driving Directions
Philando Cooks
Oak Cliff Chamber of Commerce
214-943-4567 ext. 202
membership@oakcliffchamber.org
HOST SPONSOR
GOLD SPONSOR
BRONZE SPONSOR
Scott Chase
Become a Sponsor!!!
Sponsorship opportunties are available to those businesses that desire to have a higher profile and provide a high level of expertise in their field.
Become a Vendor!!!
Vendor opportunities are available to those that would like a table at the event to meet with attendees and distribute their information.
Contact Philando Cooks at membership@oakcliffchamber.org or call 214-943-4567 ext. 202.