This training inspired me to reach for a new level of excellence. It was eye-opening and so much fun. Elisabeth is energetic and kept our attention throughout 2 days. GREAT COACHING!
-- Loretta. Dawson, Employment Coach, Solano, CA
Overview
Are you ready to take your training skills to an advanced level? This event is for YOU! Whether you are a newer or seasoned trainer, teacher, speaker or coach, this event will add to your confidence, expertise and impact. The tools and know-how you gain will improve your training immediately, and increasingly over time allowing you to focus on bringing your content to life with your learners.
What Will I Learn?
Discover how the human brain really learns -- which is very different from traditional assumptions about learning.

Explore the most current "cognitive neuroscience" about effective instruction - how the brain takes in, stores, retrieves and uses knowledge.

Encounter six powerful learning principles based on the best of brain science

How to apply these principles EVERY time you train, teach, or coach others.
During this dynamic, two-day training program, you will also practice using the 4Cs instructional design "map" with the content you teach, regardless of the complexity of the topic, size of the class, or level of learners. The 4Cs is a brain-based, four-step, Accelerated Learning instructional design model used by trainers around the world.
*Specific Learning Objectives listed in sidebar below.
An awesome, unique, and valuable training experience! I was totally captivated by the content from this class. It was exciting, interesting, and provided lots of tools to take away and immediately apply at work. Also, the instructor gets a "job well done"!!
-- Ken Mitchell, Sr. Manager & Agile Coach, Gracenote (a Nielsen Company), CA
What Will I Get?
You will leave this train-the-trainer event with:
a trainer's 'tool bag' of practical, brain-based instructional strategies you can put to use immediately in your own training programs.

Sharon Bowman's best-selling book "Training from the BACK of the Room! 65 Ways to Step Aside and Let Them Learn".

Sharon's newest book "Using Brain Science to Make Training Stick".

A copy of the 55-page participant workbook that is available only with this program.

A collection of "brain activating tools" -- game prizes, training souvenirs, and learning aids -- that can be used in the participant's own training programs.

A certificate of completion for a resume and suitable for framing.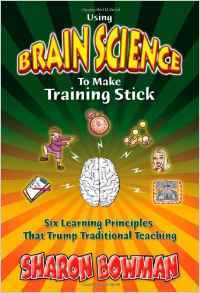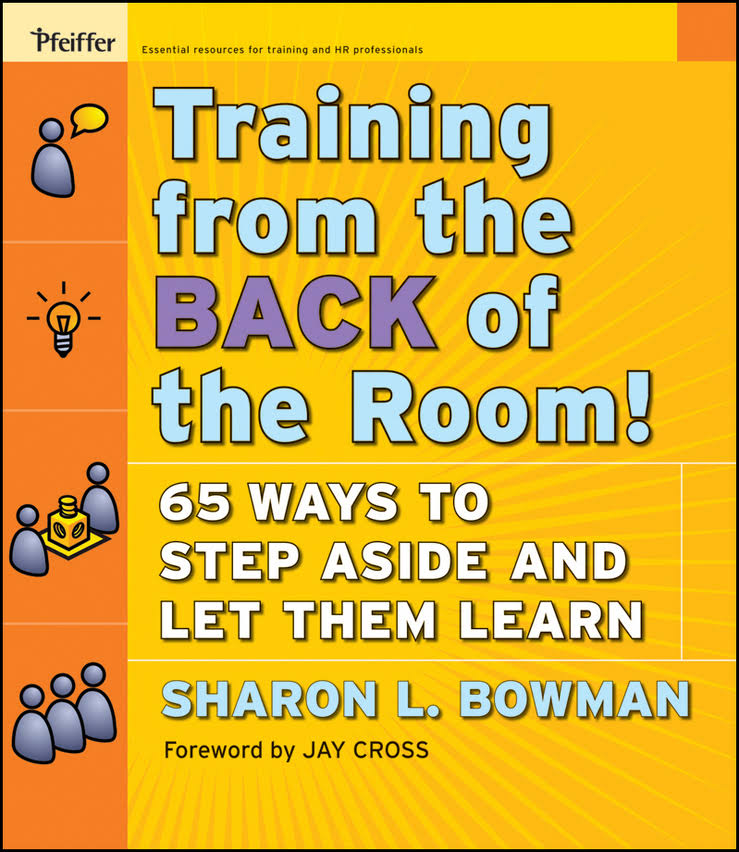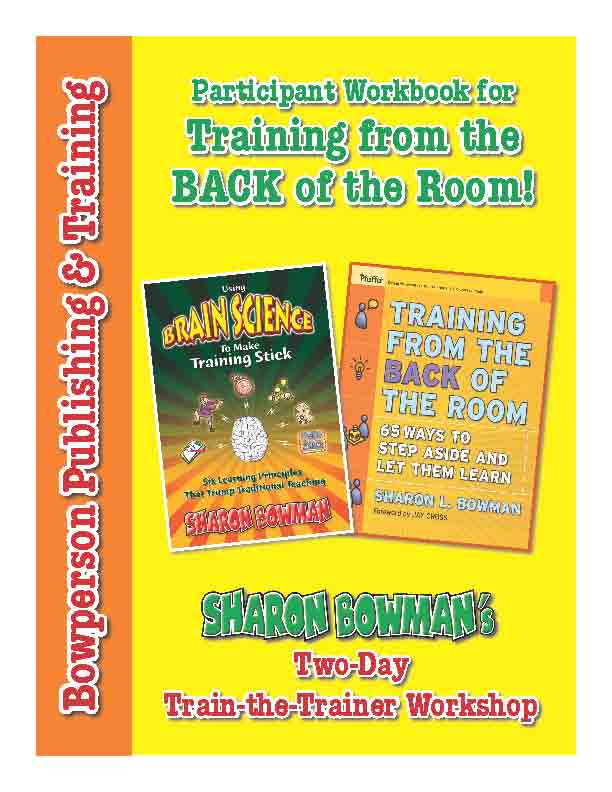 *Included both days: Morning coffee and lunch.
Everyone who trains others should go through this training! It was different than other trainings. It kept my brain involved. Great 'hands on' learning.
--
Sandra Hallowell, CM Manager, Church at Rock Creek, AR
Who Should Attend?
AGILE & SCRUM TRAINERS/COACHES: These Accelerated Learning principles go hand-in-hand with team-based Agile and Scrum processes and principles. If you are an Agile coach or Scrum trainer, you will be especially pleased to discover how to combine Agile/Scrum concepts with collaborative learner-engagement.
EMPLOYMENT/CAREER/WORKFORCE/CORPORATE TRAINERS: For more than 15 years, Elisabeth has been using these very approaches to train job seekers, career changers, employees... and the trainers (and workshop presenters) who train them. It works beautifully whether your learners are chronically unemployed and facing a hard journey back, or stellar employees looking to advance their careers.
SCHOOL TEACHERS: This will add important dynamics to your teaching style -- fun, confidence, dynamism and effectiveness for you and your students!
An inspiring revealing, insightful training. Can't wait to start using it tomorrow. Elisabeth is a rock star! What a way to keep us engaged, making each topic relevant, personal, and fun. Thank you!
-- Sandra F. Torchia, Senior IT Manager, VMWare, CA