AMRA Public Outing "Gold Fever"
Gold Fever Adventures
and RV Resort
Salome, AZ
Fe AMRA is having another fun and exciting outing!
Free and open to the public
Bring your family and friends!
New to prospecting or curious?
Let us know and we will teach you how to find gold in the desert. You keep all the gold you find!
Free camping at Gold Fever Adventures and Resort, friendly dry camping property or just visit for the day!
Bring everything you'll need to have a great weekend of fun and fellowship. Keep all the gold you find is yours to keep.
Arrive on Friday, Check in is Saturday 9am
Saturday runs from 10am to 4pm with a get together at 4pm for an update on AMRA current projects to protect your mining rights followed by our amazing Raffle!
Saturday Night BBQ Tickets $25 best Miners Dinner ever! Trip Tip Dinner and a Dutch Oven Desert (tickets must be purchased before Feb 23rd)
This year we will have a metal detecting hunt on Saturday cost for entry is $20. Entry for this can be paid up to time of hunt. We will have coins and prizes. Metal Detecting hunt starts at noon Saturday!
We keep our outings free so that everyone can participate!
We rely on your generous donations and support in the Fight to Protect your mining rights and provide great events.
We would like to thank Keene, White's Metal Electronis and Roaring Camp Mining Company for donating prizes for main raffle.

Win a week long stay at Roaring Camp Mining Company in our Saturday Raffle!!!
We would like to thank our Official Outing Sponsor
Click here to Check out Roaring Camp Mining Company!
Tell them Thank You for supporting AMRA!
Roaring Camp is something special in the way of family recreation. It is an old goldmining camp on the Mokelumne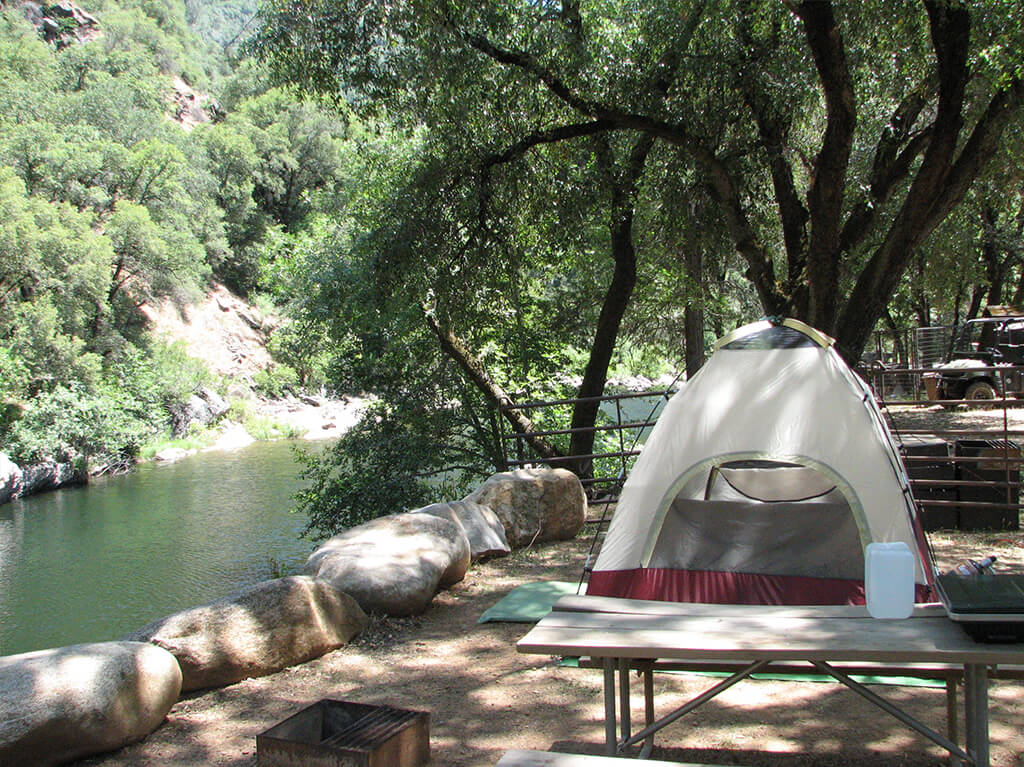 River. In the past, it was accessibly only by horseback. Roaring Camp was once a camp for FortyNiners, but since it was so inaccessible, most of the gold still remains.
Visitors can see our operating gold mine and can mine their own gold by panning, sluicing, metal detecting, and dry washing.
In the Mokelumne Canyon, the three forks of the Mokelumne River come together. It is a river unsurpassed in natural beauty.
The water is so clear that one can watch the tadpoles and fish swim. There are waterfalls and natural rock formations forty feet high.
There is also a quiet, secluded "swimming hole" with rocks of varying sizes, ideal for diving by those who dare! Be sure to bring your fishing gear.
The fishing here is excellent!