Where
Oakley Community & Senior Center
3882 Paxton Ave.
Cincinnati, OH 45209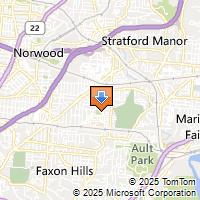 Driving Directions
Park near the Oakley Community Center and Senior Center. Meet at the American flag.

In the case of Inclement weather, the walk will be postponed. Attendees will be notified within 12 hours of walk start via email and cell phone.

Clare Zlatic Blankemeyer
Impact 100
513-325-2684
governance@impact100.org
Safe Haven Farms

StepUp Oakley (1.8 Miles)
Did you know there are more than 400 sets of outdoor steps in our region containing more than 16,000 eight-inch risers? Join Impact 100 in experiencing our neighborhoods in a way unique to the region through urban hikes developed around sets of steps, mini-history lessons, and Grant Recipient updates.
StepUp Oakley (1.8 Miles) Route Details
This is an amiable and surprisingly satisfying tour of trim homes and lovely rock gardens from Oakley Parks through a surprise wooded area. (Walk No. 29 from Walking the Steps of Cincinnati: A Guide to the Queen City's Scenic and Historic Secrets by Mary Anna DuSablon, Second Edition, Revised and Updated by Connie J. Harrell & John Cicmanec.)
Distance: 1.8 miles
Previous Impact 100 Grant Recipient: Safe Haven Farms. Read more about their Impact 100 funded initiative here.
Walk Notes: Don't let being so close to Hyde Park Square fool you; if you've never walked the steps in this neighborhood, you'll be surprised at the hidden gems -- tucked away between homes and connecting streets by foot. The Gilmore Avenue Steps are a fun site to see!
This walk is generously co-hosted by Impact 100 member Peg Dierkers & Mary Effler.
StepUp Series Details
Given COVID-19, we have heard a desire to connect while taking caution in how we engage with members and guests in responsible and mission-centric ways. In response, Impact 100 has created this StepUp experience that leverages our beautiful parks, outdoor stairways, and rich history while inviting you to StepUp and move! On each StepUp walk or fitness experience, guests will:
Meet at a central location with 1-3 volunteer "guides;"
Explore a pre-determined route with various outdoor flights of steps, following social distancing regulations;
Break at least twice so people can go at their own pace & spread out;
Regroup at

historically relevant locations for a brief history lesson;

Meet & hear from an Impact 100 Grant Recipient creatively connected to the route.
All are welcome! Grab a friend, increase your step count, and learn something new along the way. Children and leashed dogs are welcome at your discretion and with advanced registration/waiver of liability. Please note distance, steps, and route details in determining appropriateness.
Health & Safety
Impact 100 cares about your health & safety while developing creative ways to stay connected. Given such, it is strongly recommended that attendees wear masks and/or commit to walking at least 6 feet apart for social distancing purposes along the route as we collectively take caution in unintentionally spreading the virus. We ask registrants to agree to social distancing & provide their own Personal Protective Equipment (PPE) such as a face mask. Registrants are welcome to contact Impact 100 if help is needed securing a PPE.