Where
Hilton Sacramento Arden West
2200 Harvard Street
Sacramento, CA 95815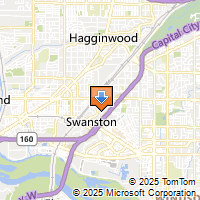 Driving Directions
Sophie You
, Member Service Manager
California Asphalt Pavement Association
916-791-5044
syou@calapa.net
About CalAPA
The California Asphalt Pavement Association, founded in 1953, is a non-profit trade association representing the asphalt pavement industry in California. CalAPA members include asphalt producers, refiners, suppliers, paving contractors, equipment manufacturers, testing labs, consultants and others who make up the industry in California. Click HERE to learn more.
THANK YOU TO OUR EXHIBITORS AND SPONSORS!
CalAPA conferences are only possible thanks to the generous support of our many exhibitors and sponsors. There is no better way to build your company's brand identity! A conference brochure that lists the various sponsorship and exhibitor opportunities is
HERE
. Contact Sophie You at CalAPA at (916) 791-5044 or via e-mail at: syou@calapa.net for sponsorship information.
WE'RE SERIOUS ABOUT PRODUCING HIGH-QUALITY EVENTS; WE EXPECT YOU TO TAKE THEM SERIOUSLY, TOO
Registration for CalAPA events must be completed in advance and on-line, and payment must be received prior to admittance. As a non-profit trade association, CalAPA must be protected from losses on events. Therefore, cancellations must be received at least 72 hours prior to the date of a class or event to receive a refund. Substitutes are always welcome.

HEALTH & SAFETY
CalAPA is committed to the health and safety of attendees at all CalAPA events. The association closely monitors and follows guidance from public health authorities as it relates to the COVID-19 pandemic, and the Fall Conference venue, Hilton Hotels, is know worldwide for its best-in-class health and safety protocols put in place for its guests via its "StaySafe" program. CalAPA will communicate to conference registrants any guidance on this front as it becomes available.

IN THEIR OWN WORDS
Praise from previous CalAPA conference attendees:
"It was one day with a lot of information."

"Numerous opinions from a diverse field."

"Lots of practical info."
"The technical presentations on specific projects were great."

"Good, thorough topics."

"Real-life, job-specific examples."
"Very relevant."

"Great networking."

"Various perspectives, fast-paced, nice facility, good speakers. A great, timely event. Thank you!"

"Facilitated very well -- stayed on time."

"Informative, helpful, good info."