Diocese of New Westminster
MISSION AND MINISTRY CONFERENCE
Saturday, October 15, 2022
with
Dr. Amy Zidulka, Collaborative Innovations Professor
Royal Roads University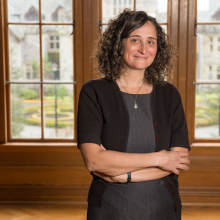 You are invited to participate in an opportunity to celebrate and connect to the many ministries of the Diocese of New Westminster. Guiding us through this nurturing day is collaborative innovations professor Dr. Amy Zidulka from Royal Roads University. She will invite us into exercises to refresh, empower and creatively engage in our calls to mission and ministry.
Throughout the day we will practice imaginative skills with three ministries, Housing and Homelessness, Climate Justice and Spiritual Development. Giving us an opportunity to develop abilities that we can take into the future we build together.
The Mission and Ministry Conference 2022 begins at 9:30 am with coffee and tea at St. Dunstan's, with the official welcome at 10:00 am. It will conclude by 4:00 pm.
Pre-registration is required. The deadline to register is Monday, October 3.