When
Saturday, June 24, 2023 at 9 AM.
Join us after golfing from 4-7 PM at Olympia Sports Bar!
Where
Weaver Ridge Golf Course
5100 N Weaverridge Blvd
Peoria, IL 61615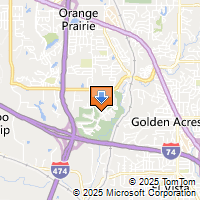 Driving Directions
Sheila Snarr
sheilasnarr@gmail.com

Join us for the 2nd Annual Coach Rick Snarr Enduring Spirit Golf Outing!
***Space is limited so SIGN UP EARLY***
Join us on Saturday, June 24th at WeaverRidge Golf Course for a fun day of golfing to support the Rick Snarr Enduring Spirit Scholarship Fund!
The event begins at 9 AM with a shotgun scramble, and a light lunch will be provided at WeaverRidge. After the golfing event, please join us from 4-7 PM at Olympia Sports Bar for a complimentary dinner buffet. There will also be a 50/50 raffle and a silent auction with great prizes. Registration closes on June 15th so be sure to sign up today!
Learn more about Coach Snarr...
Rick Snarr graduated from Richwoods High School in 1964. He earned his college teaching degree in North Dakota while also playing collegiate baseball, basketball and tennis. He then returned to Richwoods to pursue his dream job. For 36 years, Rick taught many subjects including Physical Education, Drafting, and Shop Class.
However, Coach Snarr's passion was most evident when he was coaching high school sports. His Richwoods career spanned a wide variety of sports including baseball, football, track & field and both boys and girls basketball. He loved working with all athletes no matter their skill level. What mattered most to him was the effort an athlete was willing to put in.
Coach Snarr loved to compete, but it wasn't the number of championships his teams won that motivated him. Rather, it was the life lessons he could provide to his players. He knew these kids were going through a pivotal chapter in their lives and he used his influence to shape them into hard working, passionate and respectful young adults.
Coach Snarr consistently showed that he would go the extra mile to make Richwoods a better place. He drove the bus, he mowed the field, and, with his wife, spent more than 150 hours painting the gym floor. And, when the baseball field needed to be renovated in the '90s, Coach Snarr spent countless nights and weekends building Richwoods the field he felt it deserved. He installed a new irrigation system, constructed new dugouts and added field lights for the first time. Whatever needed to be done, Coach Snarr was there to do the work, never seeking recognition for himself.
Rick cherished his family and was thrilled that he was able to work side-by-side with his wife Sheila, also a lifetime Richwoods teacher and ardent supporter. He was particularly proud that he also had the opportunity to coach his own four kids through their high school athletic careers.
The Rick Snarr Enduring Spirit Scholarship award was organized by Rick's lifelong Richwoods High School friends known as "The Magnificent Seven." Through their efforts and the donations of many, Coach Snarr's work and spirit will endure at Richwoods.
His loyalty to his school, his students, his athletes, and his colleagues will always be remembered.
"No matter what you do in life, always try your best." -Coach Rick Snarr