Oct 22 2021 Chapter Meeting | GDOT TMC 25th Anniversary
The GDOT TMC is turning 25 this year, and we are bringing together ITSGA and GAITE to celebrate! The TMC is ground zero for mobility in GA and the nerve center for our world-class intelligent transportation system. This month we will sum up the excitement of GDOT's past 5 years (and beyond!) and tour their state-of-the-art facility.
When
Friday, October 22, 2021 from 11:30 AM to 1:00 PM EDT
Where
GDOT TMC
935 United Ave SE
Atlanta, GA 30316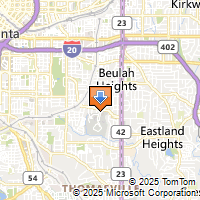 Driving Directions
Look who else is already registered!
Marwan Abboud
Abdulai Abdul-Majeed
Mojtaba Alemohammadi
Abdul Amer
Mahesh Atluri
Yancy Bachmann
Chuck Bailey
Christina Barry
Shashank Boddupalli
Mark Boivin
Brianna Bolen
John Bolen
Challa Bonja
Himakara Gupta Borra
Blake Bredbenner
Geoff Bulpitt
Mike Busch
Rachel Cohen
Sean Coleman
Todd Conley
Victoria Coulter
Matt D'Angelo
Christopher Dew
Madison Dorminey
Juan Duarte
Richard Fangmann
Kenn Fink
Steven Foy
Marco Friend
Jourdyn Fuga
Troy Galloway
Paul Giles
Joe Gillis
Farrah Glasgow
Matt Glasser
Thomas Glueckert
Derrick Goudeau
Elizabeth Gross
John Hibbard
Colton Hill
Zhang Huang
Arnaud Huguet
Casey Inoue
Ravina Jain
Christy Jeon
Randall Jordan
David Kasbo
Divya Kolasani
Xuewen Le
Todd Long
Keary Lord
David Low
Sarah Jane Lowentritt
Chris Maddox
Brook Martin
Sowmya Maya
Kendall Mays
Keith McCage
Cassie McEnroe
Bobby McGraw
Gautam Mistry
Scott Mohler
Demetrius Moore
Jonathan Moore
Keith Murphy
Robinson Nicol
Kevin Nintin
Cody Owenby
Jose Pagan-Otero
Holly Painter
Dino Pampolina
Poonam Patel
Kelly Patrick
Andy Phlegar
Jim Pohlman
Karla Poshedly
Zach Puckett
Muhammad Rauf
Ben Robinson
Chris Rome
Clark Rutledge
Bryanna Saunders
Anslee Schroeder
Shafikul Shafik
Kate Shearin
Steven Sheffield
Bill Skillas
Ulrich Sounkoua
David St John
Doug Stanford
Marc Start
Chris Stewart
Keith Strickland
Taylor Stukes
Justin Stutts
Chris Swenson
Dee Taylor
Jaap Tigelaar
Jim Tolson
Thomas Udell
Kelly Mears Utilicom Supply
Nabarjun Vashisth
Eli Veith
Kenny Voorhies
Grant Waldrop
Jared Wall
Jonathan Wallace
Josh Williams
Requel WIlliams