Where
Rio Salado Conference Center
2323 W 14th Street
Tempe, AZ 85281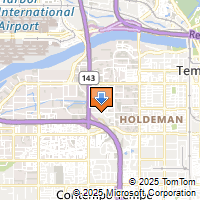 Driving Directions
Elizabeth Hamilton
Arizona Division for Early Childhood
AZDEC48@gmail.com

For Registration Help
ArizonaCEC1@gmail.com
520-870-8274


Arizona Division for Early Childhood
2020 Spring Conference
Small children can have big feelings! Join us for our 2020 Spring Conference,

Presented by
Drs. Cori More and Jennifer Butcher, University of Nevada Las Vegas
February 29, 2020

Learn about typical emotional development, how to teach replacement behaviors, data collection methods and tools, environmental strategies, and how to align strategies with the function of the behavior.
$75 for non-AZDEC Members
$50 for AZDEC Members

Registration opens at 8:15 am, the conference begins at 9:00 am. Lunch is provided. Registry Credit is Available.
Pay by check, credit card, or PO. Send registration checks or PO to: AZCEC,4850 W Kay T Drive, Tucson, AZ 85745
Need help with registration? Call 520-870-8274