Onsite Registration: 10:00 AM
Where
Woodlands Chamber of Commerce
9320 Lakeside Blvd. Suite 200
The Woodlands, TX 77381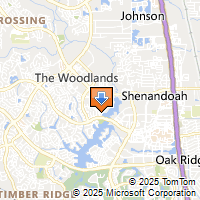 Driving Directions
Contact
lraman611@yahoo.com
713-487-6565
About Us:
SCORE is an all-volunteer group with real-world business experience, dedicated to your success.
Our Mission: Help Small Businesses Succeed.
Our Mantra: We educate, counsel, mentor.
Founded in 1964, SCORE, "Counselors to America's Small Business", is a non-profit association and a Resource Partner of the U.S. Small Business Administration.
For more information, go to scorehouston.org
A solid business plan is essential to gaining access to capital and to truly understanding your business today and in the future.
This Easy Business Plan workshop will walk you through the 12 critical elements of every business plan. It will teach you how to create your own customized business model, how to assess the competitive quality of your business model and how to convert worksheet data into a professional business plan that lenders will appreciate and that you can use to help focus and grow your business.
As shown in this business model, the workshop breaks the various elements of the business plan down so it becomes manageable and a real, living document.
Be prepared to leave with a relevant and concise outline of your business plan.
You will learn how to download all of these planning materials.
Register Now!
Free event; includes light refreshment
Presenter: Dan Gillingham
Dan had a long and successful executive career in technology, project management and portfolio management with a large petroleum company. He has been a SCORE Mentor for several years and is recognized for his skill in helping entrepreneurs with a broad range of issues. He has developed a number of resources to help entrepreneurs plan and organize their businesses. He serves clients in the SCORE Woodlands Office.